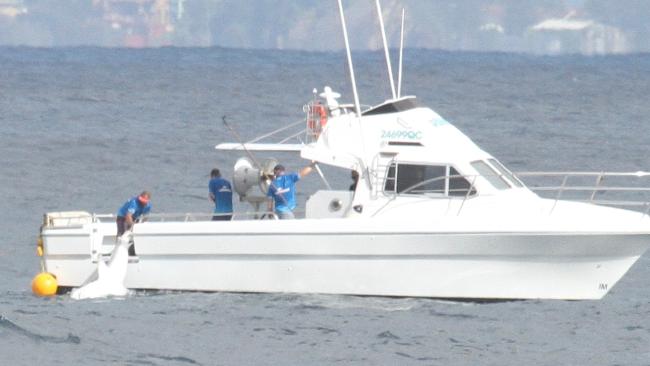 Several photos of a 10ft tiger shark caught on a drumline off Australia's Gold Coast have been posted on Instagram.
Local photographer Juan Medina posted the photos to his 30,000 followers saying ""Sad to see this today."
According to the Gold Coast Bulletin, this is one of 12 shark caught in the last two months.
A department of fisheries spokeswoman told the news site:
"A 3.15m (10ft) tiger shark was caught at Snapper Rocks."
"The aim of the Queensland Shark Control Program is to reduce the possibility of shark attack for swimmers by removing resident, dangerous sharks from the area."
"So far this year, 12 sharks have been caught in the Queensland Shark Control Program at the Gold Coast."
The article did not state the sizes or species of the other shark caught.
While the goal of the program is to prevent shark human interactions, the method may not be the best available.
Drumlines are baited hooks connected by chains to floating barrels. This can create major issues, as any marine creature attracted to the bait could become hooked. This included non targeted species of sharks, undersized sharks or other marine animals.
In 2015, Sea Shepherd posted a video of a dolphin that had become hooked on a drum line.  According to the video description, a hook had become embedded into the dolphin's abdomen and punctured the juvenile's lung.