*******Updated 01/08/15*******

You're going to need a bigger aquarium if you want to compete with the Okinawa Churaumi Aquarium in Japan. They just put an 11 1/2ft (3.5M) great white shark on display January 6th. The shark was caught accidentally caught in a fishing net off the village of Yomitan in Okinawa prefecture Monday.
Great white sharks do not fair to well in captivity. According to the Atlantic White Shark Conservancy the Monterey Bay Aquarium displayed a total of six from 2004-2013. The longest display was 198 days before it was released into the bay.
White sharks are extremely delicate and we really don't know how to take care of them. The one currently on display in Japan has not eaten and has stopped swimming at least once and sank to the bottom, which is not a good sign.
Sea World San Francisco attempted to display a white shark in 1981 and lasted 16 days. It would not eat and was released back into the ocean.  In 2011 the Monterey Bay Aquarium released a 4-foot juvenile that had been on display for 55 days. Unfortunately, according to the electronic tracking tag, the shark died minutes after being released.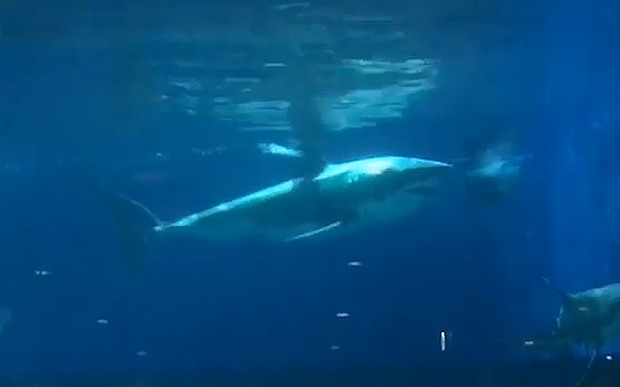 Why? No one really knows.  It could be a combination of factors. White sharks roam and have been known to travel great distances in short amounts of time.  Leaving one in a small body of water can create navigational problems. Some have been known to bump into the walls of the enclosure which can lead to issues with the shark sensitive nose.
Some white pointers have survived in captivity. Monterery Bay has had others on display from 11 days to six-and-a-half months that appear to have survived after being released.
Displaying sharks in aquariums can increase species popularity and it could also open up dialogue on protection and conservation. However it is a fine balance in that the life of the shark must also be considered. It is after all, an extremely important player in the oceans food chain.
*** 01/08/15 UPDATE The captive white shark never ate and sank to the bottom of the aquarium.  It was placed in a separate tank and given oxygen, but sadly died this morning. A necropsy will be performed.***