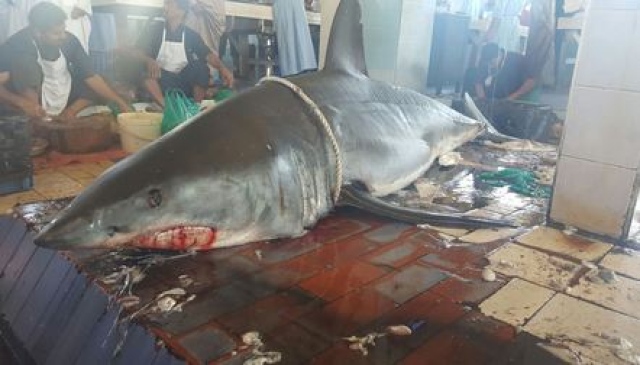 A 13ft mako shark jumped into a boat 28 miles off the coast of Fujairah, which is part of the United Arab Emirates.
The shark landed in the fishing boat late Sunday night.
Emirati sailor Hamza Al Sharaa told The National UAE: "One of our crew members was fixing the fishing rope on the boat when the shark jumped out of the water from his back trying to eat him and, in seconds, it was in the middle of the boat after it hit one of the [sides of the] boat."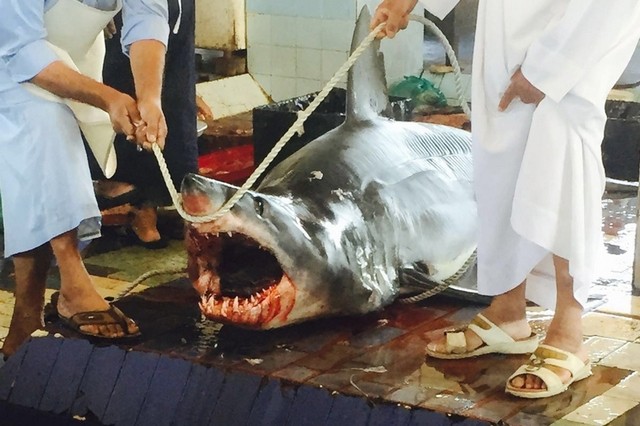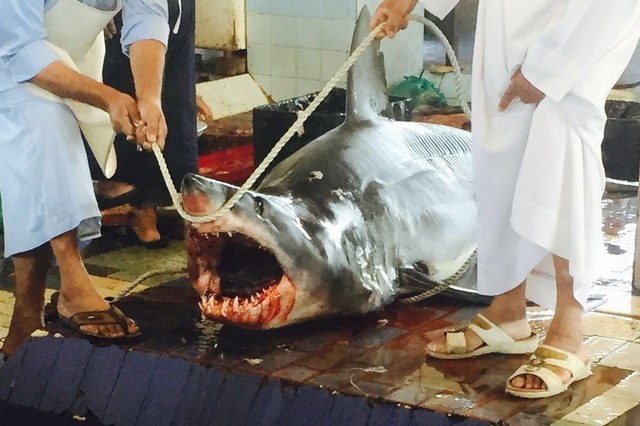 The roughly two ton shark apparently hit some type of barrier in the middle of the boat and began thrashing around.
According to the Burj Al Arab assistant aquarium operations manager David Robinson, the shark may have actually been caught on a fishing line. "This fish looked like it has been fished, as there was a hook in its mouth and the reason that it jumped on the boat was not to attack people but because it was stressed and pulled out of the depth,"
"The mako shark is a fish eater and wouldn't jump out of the water and attack people, unless it has been hooked and pulled out the water."
"Sharks are under a lot of threat and they are slowly disappearing by illegal shark fishing."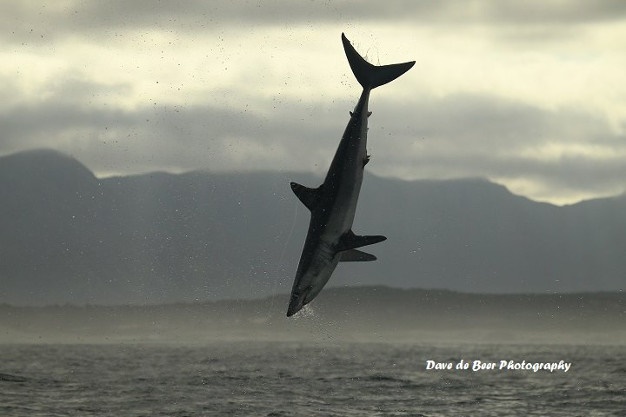 However, Deputy Chairman of Fujairah Fishermen's Association Khalifa Masoud said the hook was placed in the sharks' mouth "to keep the dead shark still on the boat"
Crew members quickly dispatched the shark with a blunt object.

This is not the first time a shark has jumped into a boat in the UAE.
Mr. Masoud told The Gulf News Society "We are used to seeing this species of shark but not usually this long."
He had two smaller sharks land in his boat last year.
Warnings are being issued to fisherman that they should not sit on the rails of their boats in the event a shark were to land in the boat, possible knocking the fisherman into the water.
The fishing society plans to preserve the shark for eventual display in the Fujairah Maritime Museum.
Mako sharks are not considered a threat to humans as they normally only attack when provoked.
Click to read more stories from tracking sharks on mako sharks.