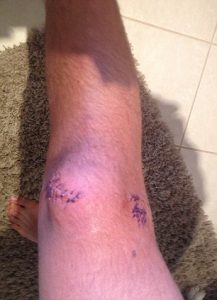 Jesse McKinnon a fifteen-year-old bodyboarder from Victor Harbor Australia was bitten by a shark at Middleton Point on Wednesday, June 18. He received bites to his knee and around his right leg which required 27 stitches.
He was bodyboarding around 5pm when the shark came up from behind. Jesse used his bodyboard to hit the shark on its head and then headed into shore.
He told Yahoo 7news "I was kind of shocked really, it was a bit weird because it doesn't normally happen… it is not that often someone gets bitten by a shark,"
The Victor Harbour Times reports two surfers Joel Vanderstelt and Max longhurst were surfing around 109 yards (100 m) away when Jesse was bitten. A shark bite at Max's surfboard and he punched it in the head scaring it away. They presumed it was the same shark that bite Jesse, but were unable to confirm such.
Jesse said he will be back in the water as soon as the stitches are out in two weeks.
There was another shark bite on bodyboarder Scott berry in the same are last week.
Click to see all 2014 shark attack and bites mapped out.
_____________________________________________