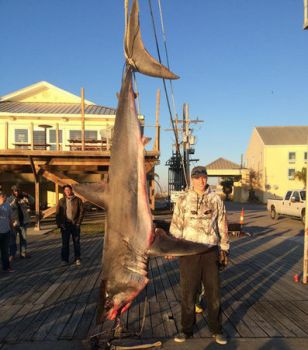 A 580lbs mako shark measuring nearly 10 ft was caught in the Gulf of Mexico last Friday.
The group from North Dakota chartered with Captain Kevin Beach from Venice, Louisiana.
Landon Rachel of Jamestown, N.D fought with the shark for an hour before it expired.
Captain Beach told the Houston Chronicle "We tried to let the fish wear itself down and then we went ahead and harvested him,"
This is the 4th largest Mako caught from Louisianan.  The meat was sent to the clients in North Dakota.