A shark bite has been reported in Maceió, Brazil.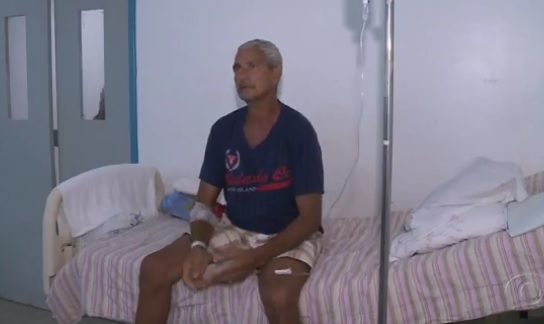 Josias Paz said he was bitten on the leg at Sauhaçuhy Beach on the North Coast.
He said a shark had become trapped by in a fishing weir, a type of corral made from rods and nets. The weir is designed to catch fish, it also traps debris from the water.
"When it rains, it always drags timber and coconut trunks into the corral," Paz told Gazeta de Alagoas, explaining the attack at the weir, when he saw something moving in the water.
"At the moment, I was not sure what it was," he said.
The fish then bit the 56-year-old above the right ankle.
Friends took Paz to the hospital for treatment.
"No one believed. The people thought it was a joke, it had been an accident, some fish that had cut me," he said. "When I was transferred to HGE [medical facility], neither the doctors nor the nurses believed until they saw the wound."
"He [the fish] must have been hungry, because the place where he was was full of fish," witness Genival told the Gazeta Web. "The shark bit it just above the heel; I helped take Josias out of the sea and took him to the post of Paripueira."
A video Paz shared with Gazeta de Alagoas shows him holding a dead fish, which may have been the attacker. Tracking Sharks is currently listing this as an unconfirmed bite until a full translation can be acquired.
There have been a total of 15 shark attack bites* in 2018, 0 of which were fatal**; 1 was reported in the US, with 0 occurring in Florida and 1 in Hawaii. Seven have been reported in Australia, none of which was fatal. Two unconfirmed worldwide and not included in the total count.
All locations have been marked on the 2018 Shark Attack Bites Tracking Map.
*Four with no injury
**one possible scavenge