An Australian kitesurfer has died after sustaining a shark bite in New Caledonia.
David Jewell was kitesurfing on the inside of a reef at Koumac at around 3:40 pm when he fell into the water. A large shark bit the 50-year-old on his right thigh. The catamaran, Discovery, was near the scene and alerted authorities at around 3:48 pm and a rescue boat was dispatched.
Nicolas Renaud, the head of the New Caledonia's Marine Rescue Co-ordination Centre said Mr. Jewell went into cardiac arrest and was given first aid by good Samaritans before being taken to shore by a rescue boat.
He was transported to a waiting ambulance at the port of Koumac. He was pronounced dead at 5 pm.
The victim was said to be from Fremantle in Western Australia, but had been living in Switzerland and was thought to be visiting the island on a 10-day vacation.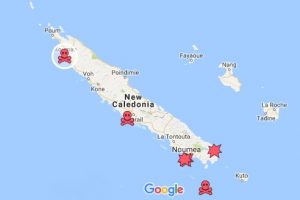 The species of sharks has not been identified.
This is the fifth shark attack bite in New Caledonia of 2016 and the second fatal incident. In April of 2016, 69-year-old Nicole Malignon was in roughly 5 feet (1.5m) of water when she was bitten by an estimated eight foot (2.5m) shark.
There have been a total of fifty-nine shark attack bites in 2016. Six of which were fatal. Twenty-six reported in the US, with seventeen occurring in Florida. Eleven have occurred in Australia, three of which were fatal.
All locations have been marked on the 2016 shark attack bites tracking map.
Updated 09/06/16.