An Australian fisherman got more than he bargained for when he grabbed his friend's hooked shark by its tail.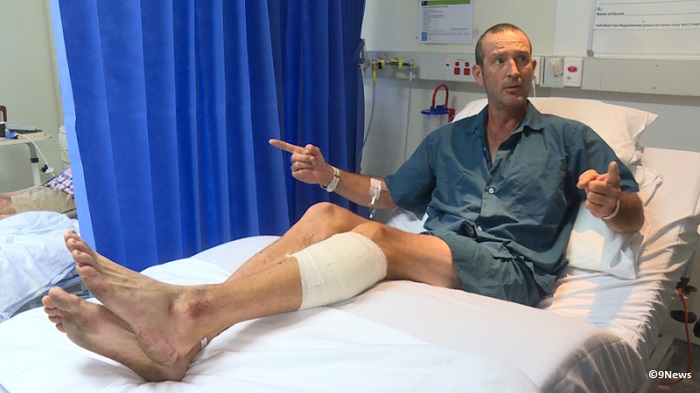 Jamie Hall, 45, was with fishing with friends off Nightcliff Jetty in Darwin, Northern Territory Sept. 29. One of his fishing buddies hooked a bronze colored 3-foot (1m) shark.
Hall went to the lower jetty to help pull up the fish and haul it to the landing. Once the shark was on land, Hall grabbed the shark's tail.
That's when the shark swung around and tore into the Milner man's left calf.
"I was like: 'He bit me!' and then I smacked his head against the steel," Hall told 9News.
"It was bleeding and carrying on – there's still lots of blood now."
Hall jumped in the sea water to clean out the wound and thought about biking home.
"I was just going to go home and give it some Betadine and that would do it," he said.
A fishing buddy convinced him that he needed medical attention and dialed emergency services.
Emergency personnel transported Hall to the Royal Darwin Hospital where he has spent two nights recovering.
"They've removed dead skin and stuffed it full of bits and pieces and then wrapped it up and that's it," he said.
Sharks have a variety of bacteria in their mouths and infection is a serious concern in all shark bite cases.
Medical personnel recommend hall spend one more night in the hospital, but once he is released, he plans on going fishing again.
According to the initial report, a friend of Hall's makes jewelry from the skeleton of sharks and other fish.
"I've caught a swag of sharks there before and I've never been bitten by one, so you know, what's the odds," Hall questioned.
While the odds of a shark attack are low compared to the number of people in the world's oceans at one time, holding, touching harassing, molesting or grabbing a shark by the tail greatly increases the odds of a negative encounter.
There have been a total of 77 shark attack bites (71 with injury, 20 of which are considered provoked*) publicly reported and verified in 2019.
All locations have been marked on the 2019 Shark Attack Map.
Five fatal**; 45 were reported in the U.S. (including one fatal), with 24 occurring in Florida (4 provoked) 14 in Hawaii (3 no injury, 4 provoked, 1 fatal) and 2 in California (1 no injury). Twelve have been reported in Australia, zero fatal. Four unconfirmed bites worldwide are not included in the total count.
*Provoked defined as spearfishing, feeding sharks, fishing, etc.
**One possible scavenge

Western Australia: 2 (1 no injury, 0 provoked), Fatal: 0, Unconfirmed: 0.
Northern Territory: 2 (0 no injury, 2 provoked), Fatal: 0, Unconfirmed 0.
Queensland: 4 (0 no injury, 0 provoked), Fatal: 0, Unconfirmed 2.
New South Wales: 4 (1 no injury, 1 provoked), Fatal: 0, Unconfirmed 0.
South Australia: 0 (0 no injury, 0 provoked), Fatal: 0, Unconfirmed 0.
Victoria: 0 (0 no injury, 0 provoked)), Fatal: 0, Unconfirmed 0.