The Australian shark prevention barriers project has been scrapped. Two eco-friendly shark barriers were to be trialed on Australia's North Coast as part of a $16 million New South Wales shark management strategy.
Unlike traditional shark nets which often capture and kill a variety of sea life, the eco-barriers were designed to block large sharks and other fish without entangling them.

The first Eco-Barrier was to be trialed at Lighthouse Beach in Ballina, but the 700 m (2297 ft) barrier construction was delayed multiple times due to adverse ocean conditions. The original construction began July 18 and was officially discontinued August 12 with "significant installation and maintenance issues."
Installation on the second barrier at Lennox Head also began July 18.  Construction of several parts of the barrier had been completed by September 9. However, on September 13 the Department of Primary Industries reported the following:
"Global Marine Enclosures (GME) has advised the Department of Primary Industries of its intention to remove the Aquarius Barrier at Seven Mile Beach, Lennox Head due to safety concerns.
Following big ocean swells, the Eastern Wall of the Aquarius Barrier broke free from the ground chain and is being removed.
The Department of Primary Industries (DPI) has started the process of discontinuing the shark barrier trial at Lennox Head.
The trial was one of two aimed at testing whether exclusion barrier technology could be used in Australian east coast conditions."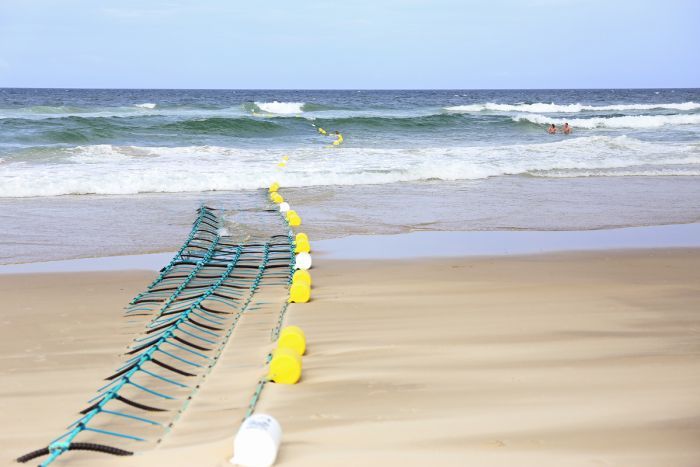 Global Marine Enclosures director Edward Khoury told ABC News, ". . . the energy of the ocean on Friday night wasn't very good; it was 2.5 to three-metre (8 to 10 ft) swells with very high winds, and that caused the barrier to be compromised, and the barrier was actually damaged.
"It may have been possible to repair it in better conditions, but it's impossible to work with a barrier that's moving one to two metres (7 ft) left and right every time a wave goes by, with divers who are at risk."
While the DPI has admitted both shark barriers "failed the first test of safe and effective installment," it may not be the last we hear of Global Marine Enclosures. "This is a trial to find out what we need to do to address the issues of high-energy beaches so we can provide appropriate barriers that suit these conditions.
"It's my responsibility to do something. I would love to try again (at Lennox Head). The local people have inspired us to carry on," Khoury said.
His company has already made alterations and created new more weather-capable pieces for the barrier.
The New South Wales Government has not committed to continue the partnership with Global Marine Enclosures.
The Australian Shark Prevention strategy of the DPI will now focus on "aerial surveillance, a shark tagging program and related VR4G listening stations, and trials of smart drumlines, sonar 'Clever Buoys' and drone surveillance."