An Australian surfer has been bitten by a wobbegong shark off the coast of New South Wales.
The unidentified man was bitten on the foot at Birubi Beach in Port Stephens October 27.
He was able to make it to the beach around 9:30 a.m. and was treated on scene by an off-duty nurse.
The 31-year-old man was bleeding heavily from the puncture wound, and was taken to the John Hunter Hospital.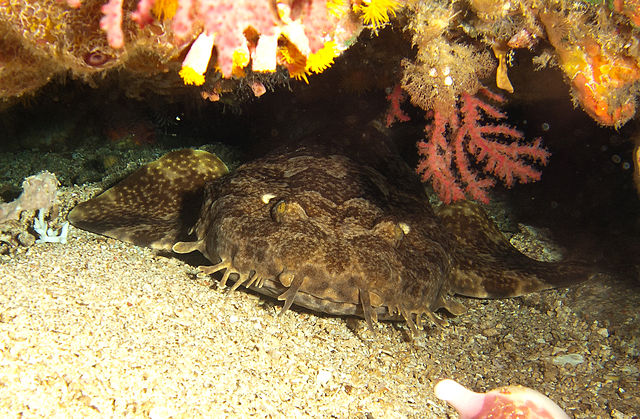 A shark biologist from the Department of Primary Industries identified the shark involved as a 3- to 5-foot long wobbegong shark.
Wobbegongs, also known as a carpet sharks, are rather docile creatures and normally only bite when threatened.
They are territorial and have been known to bite divers who swim too close. They often do not immediately release their victim, which can cause further issues.
This is the fifth shark attack bite in New South Wales for 2017.
Abe McGrath was at Main Beach off Iluka September 10, when a great white attacked. The 35-year-old was lying on his board approximately 328 yards north of the Illuka wall when the shark shot up from underneath. The shark broke McGrath's board in half and he went flying into the air. He sustained minor injuries to his right hip.
On April 2, a 46-year-old man was bitten on the left foot and calf near Samurai Point.  The unidentified man had minor lacerations.
Gonzalo Mompo Fernandez was bodyboarding off Killalea State Park March 19, when he was bitten on the bum and inner thigh. The 30-year-old had minor injuries and did not seek medical treatment.
Mitchell Collins was bitten by a suspected bronze whaler shark on the foot while swimming at Merimbula Main Beach January 4.
There have been a total of 90* shark attack bites in 2017, 6 of which were fatal*; 45 were reported in the US, with 31 occurring in Florida** and two in Hawaii. Fourteen have been reported in Australia, one of which was fatal. Five unconfirmed worldwide and not included in the total count.
All locations have been marked on the 2017 Shark Attack Bites Tracking Map.
*Two may be scavenge. **One report may have been outside of Florida waters.