A boat was bitten by a 15-foot great white shark off the coast of California July 8.
Mark Davis was fishing for squid a quarter-mile from the Capitola Beach in Santa Cruz when he was slammed by a great white shark at 6:15 a.m. The shark lifted his small boat about 4 feet out of the water. A nearby fisherman saw the commotion and came to check on Davis.
"I heard him go, 'Holy'—you know—'It's a great white!' We looked in the water and there was a 15-foot great white, and that thing was really charged up. It was ripping back and forth, looking around," Davis told The Mercury News.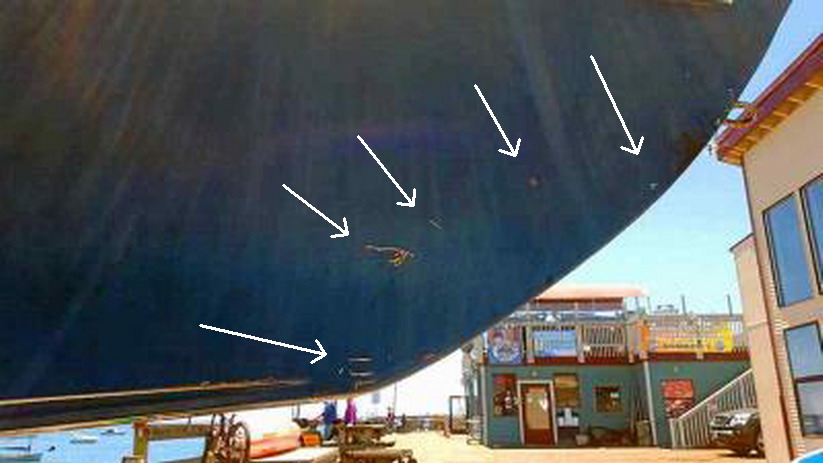 "It was a full-on slam attack from down below. He came and hit the boat full speed and knocked it into the air. He wasn't fooling around, and I'm glad it didn't knock me out because I wouldn't have wanted to be in the water," Davis told KSBW television. "He was aggressive and fired up."
Once he returned to shore, he checked the hull and found gouges in the fiberglass and deep crescent-shaped scars, along with a tooth fragment.
Sharks are common in the area known as the Red Triangle, which is a shark hunting ground for marine mammals. The triangle runs from Monterey Bay to Bodega Head to the Farallon Islands.
"I've had other sharks come up to the boat, smaller ones, but not a 15-footer. This thing was huge. I've never seen anything that large in the water before and I've see a lot of fish," Davis said.
Shark and boat interactions are not uncommon in the area. Sean Van Sommeran, executive director of the Pelagic Shark Research Foundation, sees reports of sharks biting boats every few years.
Approximately one day later Keith Poe's vessel was bitten while he was attempting to tag sharks off the California coast. In that case, Poe's boat was floating near a dead whale carcass that sharks were actively feeding on. In addition, the sharks only attacked the boat during early morning or late evening.
The approximate location has been marked on the 2016 shark attack bites tracking map under no injury.