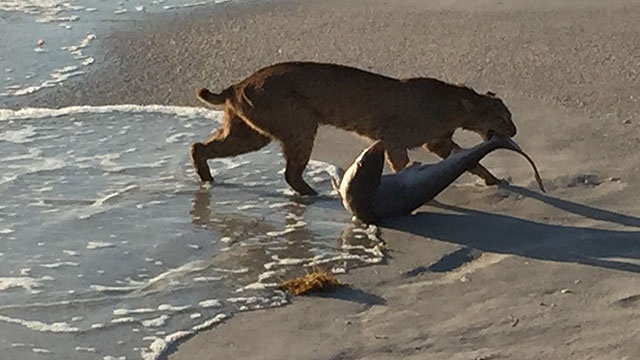 Ever seen a bobcat catch a shark? John Bailey has and he took a photo to prove it.
He was walking around the Sebastian Inlet State Park in Florida on Monday night when he saw the bobcat munching on some small fish in the surf.
A strange sight indeed, but what came next could only happen in Florida.  The cat jumped into the water and pulled out a 3-4 foot shark.
After the cat pulled the shark on shore, it apparently became spooked, dropped its catch and escaped to a wooded nearby.
WPBF had Liz Barracothe from the Florida Wildlife Conservation Commission check out the photo and she said "There is no reason to believe it's fake,"
No word on what happen to the shark.
This is not the first time we have seen the food chain in action.  Last year a crocodile was seen eating a shark and there was also this battle between a shark and an Eel.