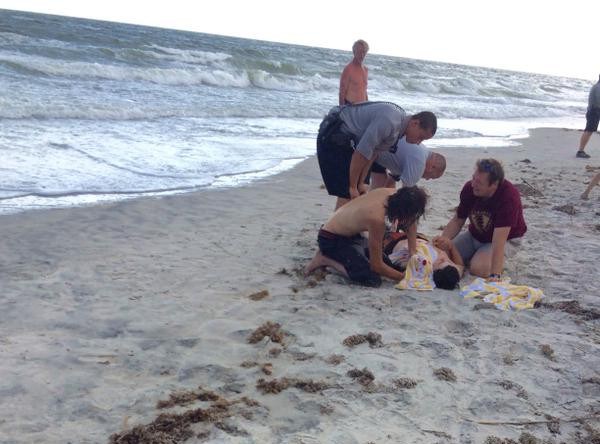 Hunter Treschel ,a 16-year-old boy lost his arm from a shark bite on Oak Island North Carolina.
The incident was reported around 5:30 pm and occurred during high tide.
The young man was flown to New Hanover Regional Medical Center.
His left arm was removed from the shoulder down and is in fair condition.
Red flags have been posted at most beaches in the area with recommendations to avoid the water.

Around 4pm Kiersten Yow was bitten by a shark losing part of her left arm from the elbow down.
Please keep the victims and their families in your thoughts and prayers.
Last week a 13-year-old was bitten by a shark while boogie boarding around 30 miles South of Oak Island.
A situation where two individuals are attacked/bitten by a shark in such a close vicinity and in such a short time span are extremely rare.
George Burgess director of the International Shark Attack file told ABC "This is the real deal threat, "This is highly unusual — I have seen this twice in 40 years. Once in Egypt and once in the Florida Panhandle."
This is the thirty-fifth shark bite attack of 2015. Six of these were fatal and two were out of water (normally fisherman bitten by their catch).*
The location has been marked on the 2015 shark attack bites tracking map.
*The information is based on reported shark bites attacks TS is aware of. It is possible the number could be higher as the incidents are not reported or have been slow to reach the US.
Most bites are mistaken identity by the sharks which produce a hit and run type attack. The majority on the East coast are caused by black tip or spinner sharks. However, due to the severity of the injury, it is possible it may have been a bull or tiger shark.
Will update when more info becomes available.