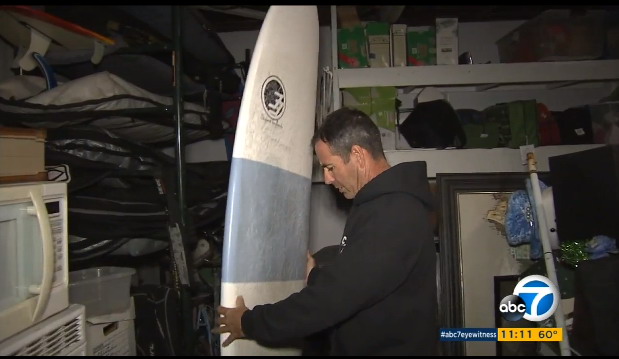 A stretch of California beach has reopened after a surfer reported a shark encounter on Sunday.
David Charles was waiting for a wave near tower 16 at Bolsa Chica State Beach, when he bumped by a shark he believed to be around 6 feet long.
Mr. Charles, who has been surfing for more than 40 years, told KABC He "Felt a bump, a pretty good bump, and I looked back, seen the tail kind of thrashing and slapping and I jumped, just reflexes. I landed in the water which was not good."
The 54-year-old, who was afraid the shark might be coming back, was able to make it out of the water safely.
Before leaving the water he was able to alert other surfers to head in to the beach as well.
Life guards closed almost a mile of the beach as precaution.
The shark is thought to have been a juvenile great white as several have been tagged in the area and are still being tracked in the vicinity.
Mr. Charles said the event will not keep him out of the water and he plans to surf again next weekend.
The location has been marked on the 2016 shark attack bites tracking map.
Last year surfer Mick Fanning made national headlines when a shark approached him on his board during a live broadcast of the final round of the South Africa J-Bay.
Mr. Fanning was pulled under the water by the shark that had become hooked to his surf board leash. He was able to punch the shark which swam away.
The other competitor, Julian Wilson, immediately paddled toward Mr. Fanning to offer assistance.
Both surfers were picked up by a support vessel and the competition was canceled two hours later with the surfers splitting the prize money.