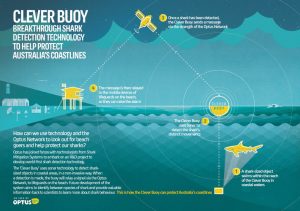 Clever Buoy is a new shark detection unit sits on the bottom of the sea and uses sonar to detect sharks. When a shark swims near the bouy, the unit will send a signal to a floating tether which sits on the water, which is then transmitted to a satellite. The satellite in turns transmits the signal to a life guards station. The unit detects sharks based on their size and swimming pattern.
"The testing found two really important things. The first is that we can actually see a shark using sonar which historically has been quite difficult to do. The second is that we are able to pick up the specific characteristics of the way a shark swims which gives us the opportunity to detect sharks as opposed to other objects in the water." Said co-founder Hamish Jolly.
Chief lifeguard Bruce Hopkins said the technology could be a breakthrough. "The Clever Buoy is going to be something that is going to be great for the lifeguards with the technology. We'll know when something comes through. It'll notify us in the tower and then we'll be able to see what it is actually that's come through into the beach. We'll know whether to put the alarm on or whether just to send the jet ski out to check out the condition."
Unfortunately it is only in the prototype stage as the software is being refined. Once in operation, it could definitely help save the relationship between humans and sharks.