A Coast Guard Station South Padre Island patrol boat crew saved sharks from a fishing net. Members of the Coast Guard spotted four Mexican fishing boats over the U.S.-Mexico maritime boundary line off South Padre Island.  As the patrol approached the boats, the fisherman quickly fled the area leaving behind their fishing gear.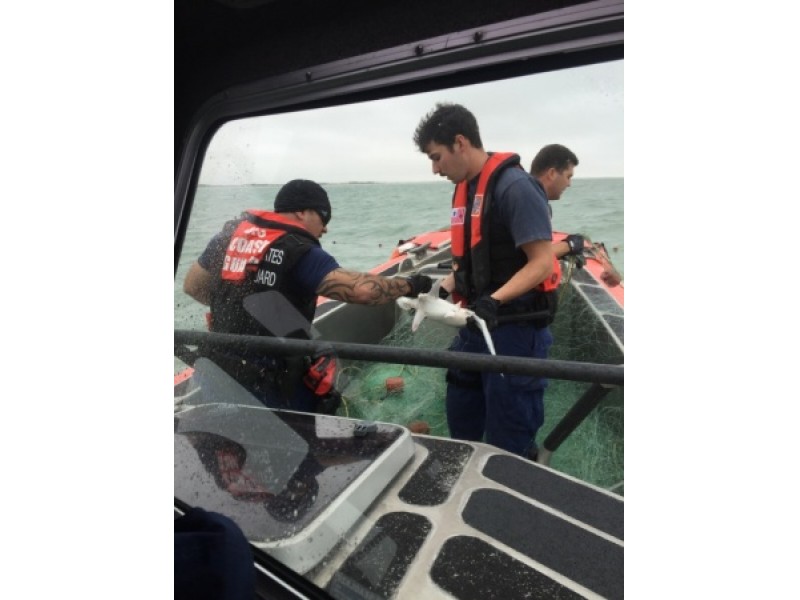 The Coast Guard began recovery of the illegal longline gear and gilllnets which saved 50 sharks. Unfortunately 5 sharks were already dead.
Fish may be caught by gill nets in 3 ways : (1) wedged – held by the mesh around the body (2) gilled – held by mesh slipping behind the opercula, or (3) tangled – held by teeth, spines, maxillaries, or other protrusions without the body penetrating the mesh. Most often fish are gilled. A fish swims into a net and passes only part way through the mesh. When it struggles to free itself, the twine slips behind the gill cover and prevents escape."
Commander of Coast Guard Sector Corpus Christi, Capt. Tony Hahn said "The Coast Guard is absolutely invested and engaged daily in combating the intense illegal fishing by Mexican fisherman in U.S. waters…This requires our personnel to spend countless hours at sea to stop this indiscriminate violation of fisheries law and U.S. sovereignty. We sincerely appreciate any reports or information that can lead to stopping this criminal activity."
The Coast Guard asks that if you witness illegal or suspicious fishing in state waters please contact the Texas Parks and Wildlife Department's "Operation Game Thief" at 1-800-792-GAME (4263). For all suspicious or illegal fishing occurring in federal waters (at least 9 miles offshore), please contact the U.S. Coast Guard at 361-939-6393.