A diver was bitten by a shark in New Caledonia.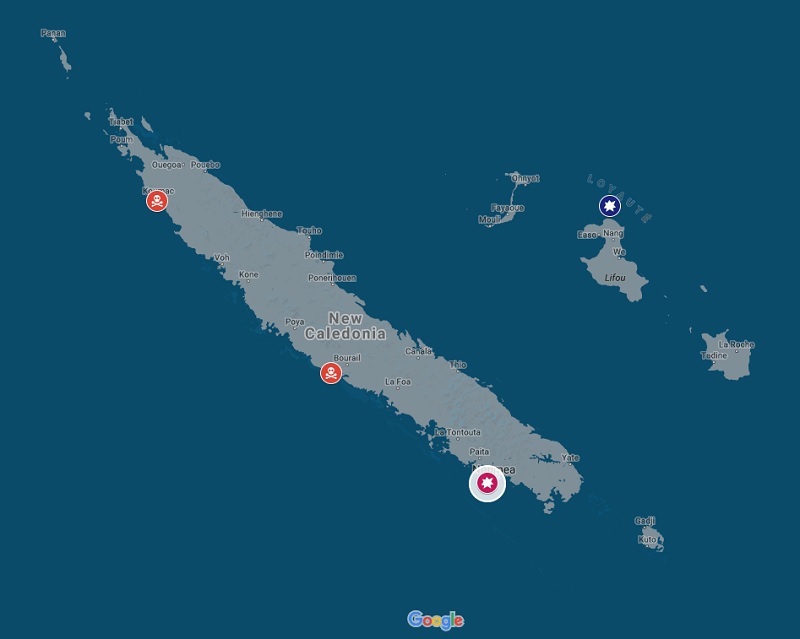 The unidentified spearfisherman was near his son and nephew, less than 10 yards off a beach, in Nouville, possibly off Rue Kiolet Nea Galet, January 21.
Around 3:30 p.m. as the 40-year-old was sitting in around 3 feet of water when a suspected bull shark approached.
The spearfisherman was bitten between his hip and armpit by the estimated 7 to 9-foot long shark.
Family members treated the wounds before transporting the man to the Médipôle medical clinic.
His injuries were severe, but witness said they were not life-threatening.
The injured man was thought to have been put into an artificial coma after arriving at the hospital, but has since been awakened, and was reported walking on Monday.
Another unidentified man was bitten by a shark last year north of Lifou Island, part of the Loyalty Islands Province, also part of the French territory New Caledonia.
The 43-year-old man was bitten by a 7- foot shark. The shark, which was identified as a gray shark, bit the man on the left side of his head before swimming away.
Two fatalities were also reported in the archipelago in 2016.
Australian Kite surfer David Jewell was on the inside of a reef at Koumac at around 3:40 p.m. when he fell into the water. A large shark bit the 50-year-old on his right thigh. The catamaran, Discovery, was near the scene and alerted authorities at around 3:48 p.m. A rescue boat was dispatched.
He was transported to a waiting ambulance at the port of Koumac, but was pronounced dead at 5 p.m. September 7.
Nicole Malignon was swimming around 11 a.m. on April 9 when she was bitten by a tiger shark.
The 69-year-old was playing with her dog approximately 66 yards off Poe Beach in clear water around 5 feet deep. The shark injured her arms and legs, and she passed away shortly after the attack.
There have been a total of 4 shark attack bites* in 2018, 0 of which were fatal*; 0 were reported in the US, with 0 occurring in Florida and 0 in Hawaii. Two have been reported in Australia, none of which were fatal.
All locations have been marked on the 2018 Shark Attack Bites Tracking Map.
*one with no injury