A freediver has been mauled by a shark off the coast of Queensland, Australia on January 21.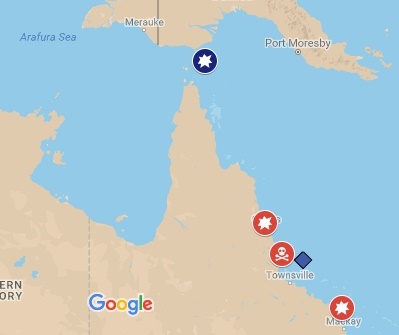 Craig de Witwas was diving in roughly 49 feet (15m) deep water around 60 nautical miles east of Murray Island when he was bitten from behind by a 13-foot (4m) bull shark at 12:40 p.m.
The 55-year-old had lacerations on his left bicep, stomach, chest and right hand.
Mr. Witwas was able to swim back to his vessel, the Golden Dawn. Crew members helped him out of the water and an off-duty paramedic administered first aid.
After a rescue attempt was called off because of inclement weather, a rescue helicopter was dispatched from Horn Island.
The helicopter arrived a little after 9 p.m. and transported Witwas to Thursday Island.
He was taken to surgery at around midnight and is currently listed in stable condition.
There have been a total of 6 shark attack bites in 2017, none of which were fatal; 2 were reported in the US, both of which occurred in Florida. This is the third incident in Queensland in 2017, one of which had no injury.
All locations have been marked o the 2017 shark attack bites tracking map.