Updated May 10, 2019.
A fatal shark attack has been reported in Reunion and a woman was bitten by a shark in Hawaii.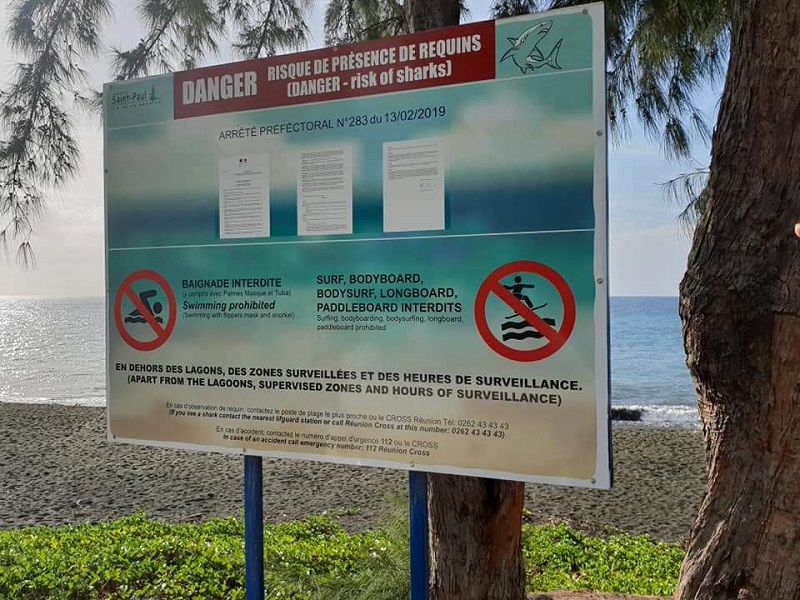 The fatal shark attack occurred at the Prefecture of Reunion, France May 9.
A man in his late twenties, early thirties was surfing in an area reportedly closed to water activates.
Kim Mahbouli and three friends who were wearing shark repellent devices on their ankles were at Saint-Leu when Mahbouli, who was not wearing a repellent device, disappeared into the water just before 4:26 p.m. local time.
Regional Operational Surveillance and rescue center of Reunion were alerted to the disappearance by witnesses on shore, who reported seeing the descendant's board floating in the water and scrambled a helicopter along with rescue boats.
Initial reports indicate the  Mahbouli's body was found floating in the water with a severed leg. Other surfers were unable to retrieve the body which was later recovered at the port of Saint-Leu.
Shark mitigation protocol has been initiated with a survey of the water being conducted and may include the use of target catch and kill fishing and the setting of drum lines.
This is the second fatal shark attack reported in Reunion this year.
Floris Huet ,41, was fishing for bichiques Jan. 30 with several friends at the mouth of the East River.
Around 9:30 a.m. Huet went out around  16-feet from shore when a shark tore off his leg. His fishing buddies pulled him from the water, but he expired after suffering cardiac arrest.
A second incident shark bite was reported in Hawaii today.
An unidentified female who was swimming with sharks was bitten on the left arm and hand around three miles off the North Shore of Oahua.
Shayne Enright spokeswoman for the Honolulu Emergency Medical Services said a 911 call was placed stating a 34-year-old Oahu resident had an injury to her arm caused by a spear.
However as the woman was being treated by emergency personal, she stated that she had been bitten by a shark.  Enright confirmed that the injury was consistent with a shark bite.
This is the sixth shark bite in Hawaii this year.  In a rare occurrence two swimmers were bitten by coockiecutter sharks while attempting to swim the channel between O'ahu and Moloka'i.
Eric Schall was bitten March 18 and Isaih Mojica was bitten April 6. Both swimmers were in the deepest part of the channel at night when the small sharks removed oblong pieces of mater from their bodies.
The island's last shark bite occurred last year on the north-west side of the island.
Juliun Perkins, 23, was bitten on the right arm by an estimated 12-foot tiger shark September 8 around 6:30 a.m.
Perkin's surfboard was pulled away as he began signaling for help as he held his arm, which had exposed tendons, nerves and bones, out of the water.
Thankfully several surfers swarmed the recent college graduate and took him to shore.
As of May 9, 2019, there have been a total of 27 shark attack bites (25 with injury, 8 of which are considered provoked*) publicly reported and verified in 2019.
All locations have been marked on the 2019 Shark Attack map.
Two fatal**; 14 were reported in the U.S (including zero fatal), with 7 occurring in Florida (3 provoked) and 6 in Hawaii (1 provoked). Six have been reported in Australia, zero fatal. Four unconfirmed bites, worldwide, not included in the total count.
*Provoked defined as spearfishing, feeding sharks, fishing, etc. (listed with green marker).
**Three possible scavenge