A firefighter was bitten by a shark off Fort Pierce Inlet, Florida, Oct. 8.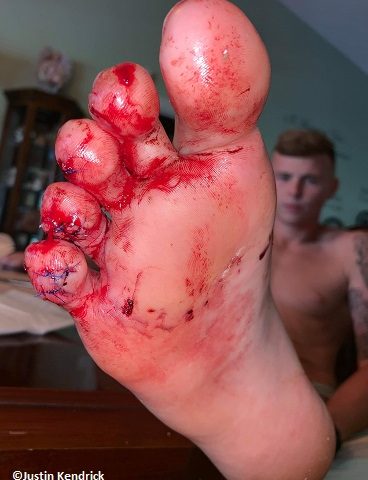 Justin Kendrick, 20, had been surfing and was headed back to shore around noon when he stepped off his board and on top of a shark about 10 feet from the beach.
"I placed my board down and instead of my feet hitting the sand in the water I must have stepped right on the sharks head or something – and that's when it felt like I just like stepped right in a bear trap," Kendrick told WPTV.
The local firefighter said the shark held onto his left foot until he shook it off.
After Kendrick made it back to shore a Good Samaritan took off his shirt and used it as a tourniquet to stem the bleeding.
"I think I got lucky I got bit where I got bit," he said. "And there was nice enough people walking by to lend out a hand and take literally the shirt off their back and give me their own towel to wrap up," he said.
He was taken to Lawnwood Regional Medical Center where he received 37 stitches to repair a torn artery.
The dedicated surfer told Tracking Sharks that doctors are scheduling a follow up surgery to have the wound cleaned and checked for infection.
He said the worst part of the ordeal is the time he'll have to spend out of the water, but he plans on hitting the waves as soon as the wound heals.
Related: Shark Attack Prevention
Based on photos of the wounds, the shark was probably 3- to 5-feet long and most likely a blacktip shark.
Shark activity is normally at its peak during April through October in Florida; however, a very late migration is occurring this year and could lead to more shark human interactions.
Two shark bites were reported around 19 miles to the south of Fort Pierce this year.
Chris Bryan, 42, was bitten off Jupiter Island March 22.
"I was bitten as I entered the water after jumping off my surfboard in about 3-4 feet of water. The bite occurred after entering the water, but before I touched the bottom," he told Tracking Sharks
Good Samaritans came to Bryan's aid and he was taken to the hospital where he received 140 stitches to close the wound.
Kael Dewey, 11, was bitten while boogieboaring off Stuart Beach March 12. He needed 16 stitches to suture injuries his right foot.
There have been a total of 81 shark attack bites (73 with injury, 21 of which are considered provoked*) publicly reported and verified in 2019.
All locations have been marked on the 2019 Shark Attack Map.
Five fatal**; 47 were reported in the U.S. (including one fatal), with 25 occurring in Florida (4 provoked) 14 in Hawaii (3 no injury, 4 provoked, 1 fatal) and 3 in California (2 no injury). Thirteen have been reported in Australia, zero fatal. Four unconfirmed bites worldwide are not included in the total count.
*Provoked defined as spearfishing, feeding sharks, fishing, etc. (listed with green marker).
**One possible scavenge