A Texas deckhand received a nasty wound from a shark.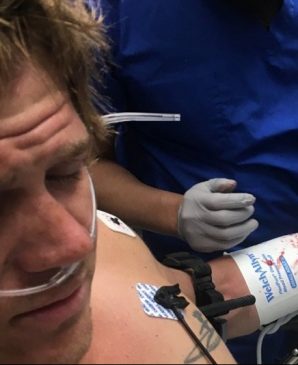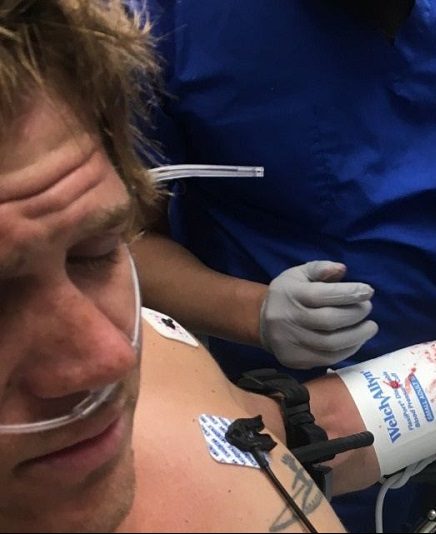 Mike Ruthenbeck was working as a deckhand on a private fishing charter April 28, targeting redfish and sharks near jetties marking the entrance to Galveston Bay.
A member of the group hooked a sandbar shark and began reeling it in.
When the shark was brought to the side of the boat, Ruthenbeck, an avid outdoorsman, jumped into action. As he grabbed the leader line, the shark thrashed and bit his left forearm.
Recognizing the severity of his deckhand's wound, the charter captain sped back to shore.
Ruthenbeck was taken to hospital by ambulance where he had two hours of surgery to repair damage to the severed nerves, tendons and an artery.
"He would need major reconstructive surgery of one major tendon, the nerve that carries feeling to the top of his hand over his thumb and a skin graft to close the area that the shark had ripped away," a GoFundMe post reported. "In addition, he would lose an artery and a tendon as his wrist and hand could fully function with only one of each (there are two major arteries and tendons in the wrist). "
After several surgeries, the left-handed fisherman received a skin graft and was released from the hospital.
"Unfortunately, Mike does not have medical insurance; therefore, all expenses will be out of pocket," the page explains.
"Mike's expenses include ambulance, trauma care, hospital stay, two surgeries, medical consultation (vascular specialist, infectious disease, plastic surgery, nerve specialist, hand specialist, and occupational therapy), prescriptions and miscellaneous medical expenses, as well as lost wages.
"Mike's medical expenses are currently at $138,000. However, not all services have been billed and it is difficult to estimate what is still ahead of him.
"Beyond his job as a deckhand, Mike holds multiple part-time jobs. He works as a rescue diver for NASA's Space Camp program and drives for Uber," his GoFundMe stated.
There have been a total of 56 shark attack bites (43 with injury, 10 of which are considered provoked*) publicly reported in 2018. One fatal**; 18 were reported in the U.S., with 7 occurring in Florida and 2 in Hawaii. Fifteen have been reported in Australia, none fatal. Six unconfirmed bites, worldwide, not included in the total count.
All locations have been marked on the 2018 Shark Attack Bites Tracking Map.
*Provoked defined as spearfishing, feeding sharks, fishing, etc. (listed with green marker).
**One possible scavenge