A fisherman has been bitten by a shark at Fort Walton Beach, Florida.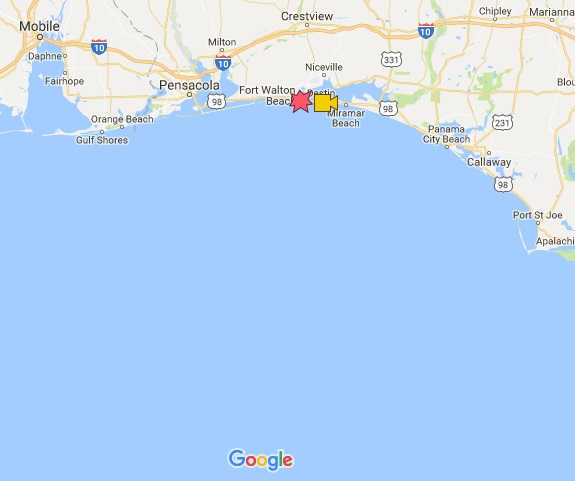 Terrell Moore was bait fishing in waist deep water around 75-feet off shore on the western end of Okaloosa Island when he was bitten by a shark on July 14.
The 39-year-old Tennessee man did not have life threatening injuries and was taken to Fort Walton Beach Medical Center.
LT. Mike Simmons with the Okaloosa Island Fire Department said based on the bite marks on the man's foot that "it was definitely a shark".
Lt. Simmons told Northwest Florida Daily News "He said it[the shark] grabbed him with enough force that when it grabbed his foot and pulled, he felt like his leg was being pulled out of the socket". He said that Moore described the fish as grey and thought it was around 4 feet long.
This is the first shark related incident in the panhandle for 2014.  Click to see how safe you really are in the water.
Update 7/22/14
Mellissa Moore said her husband Terrell was swimming with their 11-year-old son near two men who were fishing.    Mr. Moore suffered lacerations and a broken foot.  Even though he was on crutches, the family was able to finish their vacation.  Unfortunately the children were worried about going back into the ocean.
This is not the first incident involving sharks, fisherman and swimmers.  Earlier this month a man was bitten by a great white that was on a fisherman's line.