There have been some serious Florida bull shark attack bites this year, and two of the surfers who were bitten could use help with their medical bills.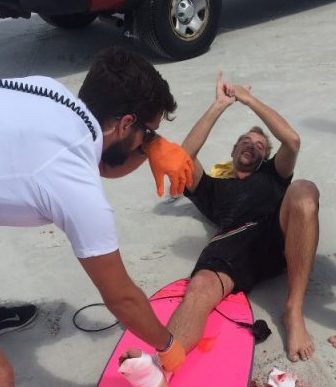 Sam Cumiskey was bitten on the foot by a nearly 7-foot (2m) bull shark at the Ponce Inlet in Volusia County August 29. After he had broken the fins on his asymmetrical surfboard, he decided to play around in the water. Since the fins were gone from the board, he attached his surf leash.
As he was moving through the water, he was bitten on the right foot. Thankfully, he was able to paddle back to shore. He used the board leash as a makeshift tourniquet to stop bleeding.
The shark bite severed four tendons on the top of his right foot. The local bartender and surf board shaper has been unable to work since the incident occurred.
"He's doing well, [and is in] full command of the TV and fridge, at the moment," according to Sam's mother Kate. "He'll be off the foot for two months, but we expect a full recovery."
Red Dog Surf Shop created a GoFundMe page to help with Sam's medical bills. Although Sam has insurance, it's basic and, according to his GoFundMe page, "he will need any help he can get!!!!"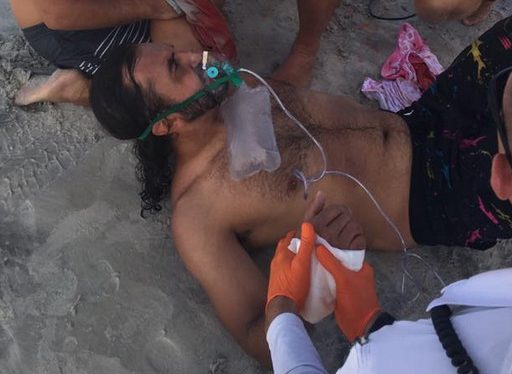 The second Florida bull shark attack bite also occurred on the Atlantic coast. Chucky Luciano-Nahed was surfing off New Smyrna Beach September 18 when he was bitten on both hands by a 5-foot (1.5m) bull shark.
The 36-year-old said he came face to face with the shark as it bit his hand. He was able to punch the shark, but it returned and began circling before biting him a second time. Despite his injuries, he was able to paddle back into shore.
Although both his hands were damaged, his left hand had sustained the worst bite damage. He underwent reconstructive surgery at Halifax Memorial Hospital in Daytona Beach.
According to Luciano-Nahed's GoFundMe page, "insurance does not cover accidents outside Miami," and he's liable for all his medical expenses.
The page reports his medical bills will be around $48,000, not including physical therapy. The self-employed surf instructor will not be able to use his hand for six-weeks.
If you would like to help, you can find more details at https://www.gofundme.com/chocolupo
You can also assist both surfers by sharing their GoFundMe pages on social media.