A Hawaiian racer's foilboard was bitten by a tiger shark August 6.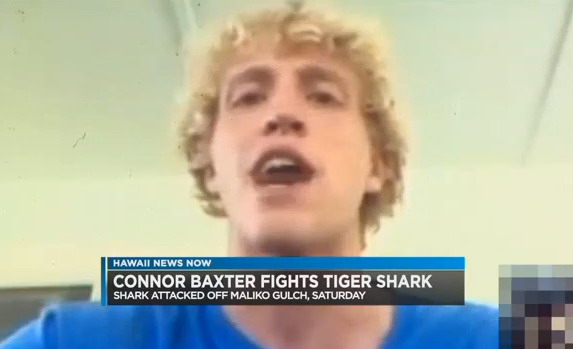 Connor Baxter was using a foilboard, essentially a paddleboard with a hydrofoil underneath, while surfing Maui's Maliko Run last weekend. Along the route he felt a bump and thought his friends might be playing a prank.  He quickly realized it was not a prank when a 10-foot long tiger shark knocked him off his feet and onto his back on top of his board.
The shark had grabbed the hydrofoil under the board and was thrashing it around.
"The power was incredible. You know he was twisting all around shaking his body. The board was like moments (from) almost flipping over," the 21-year-old told Hawaii News Now.
It took about 20 seconds before he realized the shark wasn't letting go. He was able to steady himself on his board and began using his paddle to jab at the shark.  It took about ten blows before the shark released the board.
Hawaii News Now – KGMB and KHNL
To Baxter's surprise, the shark began circling him and made one more rush directly at him. This time the surfer was ready and cracked the shark on its head which caused it to lose interest in the board.
However, Baxter was disturbed by the encounter.
"I was on my knees for the next 20 minutes, shaking," he said.
This is not the first incident of a tiger shark biting a board. In January 2016, Matt Mason was paddleboarding off Wailea Beach when a 14-foot tiger shark latched onto the back of his board.
The shark pushed the board as Mason fell off and began punching the shark. He was able to return to shore without physical injury.
Both locations are marked on the 2016 shark attack bites tracking map and noted as no injury.