A former NFL player was bitten by a shark in Florida.*
Warren Sapp, former Bucs defensive tackle, was hunting lobster with a charter out of Marathon in the Florida Keys July 27.  The group was approximately seven miles off of Marathon in nine feet of water when the incident occurred.
The forty-three-year-old was looking for a lobster when he saw a nurse shark lying in a lobster hole.  Sapp told The Rich Eisen Show he felt something "soft" when he stuck his hand in the hole. He then looked into the other side of the hole and confirmed it was a shark.  He proceeded to pull the shark out of the hole saying " I snatched him[the shark] out with my right hand and then with my left I grabbed him by the tail."  The shark was then proceeded to bite Sapp on the inside of his left arm.
"It's simple; he was lobstering with me and a shark bit Sapp while he was grabbing the lobster. He's okay," charter captain Jack Carlson told the Tampa Bay Times.
"The sharks hang around those lobster holes, because they feed on the lobster as well," Carlson said.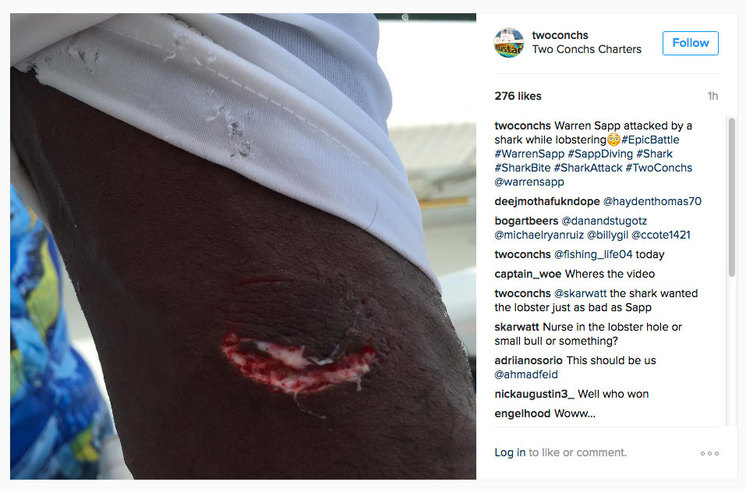 The member of the Pro Football Hall of Fame decided not to seek medical attention, preferring to doctor the wound himself.
"We bandaged it up, put some gauze on there, some black electrical tape and hit a couple more spots, then headed in," Carlson said.
The shark involved was thought to be around four feet long.
This is the 52nd shark attack bite of 2016.  Five of which were fatal. Twenty-two reported in the US, with fourteen occurring in Florida. Eleven have occurred in Australia, three of which were fatal.
All locations have been marked on the 2016 shark attack bites tracking map.
*updated August 4, 2016.