Updated Aug. 7
Four people were bitten by sharks over the weekend. Three occurred off New Smyrna beach, two on the same day and only a few minutes apart.
The third and most serious shark bite occurred about a mile off Key Biscayne Aug. 3, near Bill Baggs State Park, when Mario Avila,37, was bitten by a shark.
Avila said he had just gotten in the water when a large bull shark grabbed his left arm. Instinctually, he pushed the shark away with his other hand and was bitten on the fingers and chest.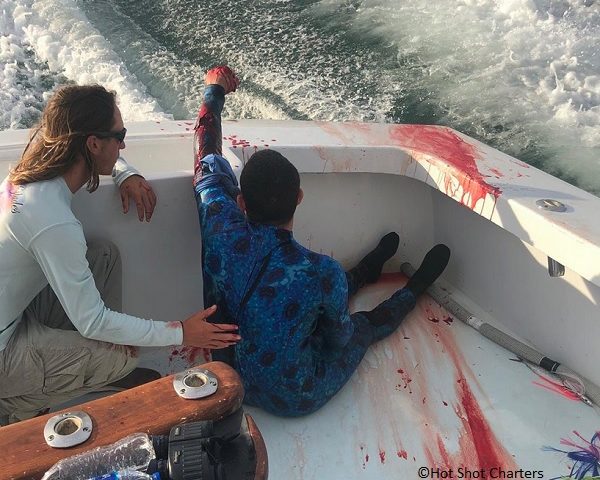 Mario Avila's team flagged down a fishing charter who stopped and collected the diver. Two nurses were on the boat and bandaged the diver's wound as they headed to shore where paramedics were waiting. Kayle Evans, one of the fishermen, said the man had (graphic link) several lacerations to his fingers and large bite with triangle shark teeth lacerations on his lower arm.
Miami-Dade Fire Rescue units responded near the scene of the attack, just before 8 a.m., and paramedics took the man to Ryder Trauma Center at Jackson Memorial Hospital. Cell phone video showed the patient was wearing an ocean-type camouflage wetsuit, the type often used by spearfisherman.
Two shark bites reported within minutes of each other
Farther north along the Florida coast the same day, Emily Comfort, 20, was surfing around 3:30 p.m. off New Smyrna Beach when she was bitten on the left hand and wrist. The local woman made it back to the beach and was picked up by an ambulance near the 2700 block of North Atlantic Avenue. She was taken to Halifax Medical Center for treatment of the non life-threatening injuries.
A few minutes later, Riley Petrovich,21, walked up to emergency personnel, requesting assistance with his shark-bitten right foot. He was paddling out into the jetty when a shark bit and released his foot. Paramedics wrapped the wound but Petrovich declined transport to the hospital and opted to go to a nearby clinic.
On Aug. 4, a 68-year-old man from Nashville was in knee-deep water in the same area when a shark bit his right foot. He had minor laceration which were bandaged by emergency personnel, but he refused transport to the hospital.
A week earlier, two other shark bites occurred in the same area
Reed Zipperer, 18, was surfing off the jetty at New Smyrna Beach July 29 and in waist-deep water around 1:30 p.m. when a shark grabbed his left hand. On July 27, boogie boarder William Angell, 49, was bitten on his thigh. The Arizona man drove himself to the hospital.
New Smyrna Beach is known as the shark attack capital of the world. The summer brings a large number of surfers seeking a chance to catch a few good waves. The rough water is home to small sharks that feed in the rough dark water. The majority of shark bites reported in the area are non-life threatening.
There have been a total of 57 shark attack bites (54 with injury, 13 of which are considered provoked*) publicly reported and verified in 2019.
All locations have been marked on the 2019 Shark Attack Map.
Five fatal**; 32 were reported in the U.S. (including one fatal), with 16 occurring in Florida (3 provoked), 7 in Hawaii (1 provoked,1 fatal) and 2 in California (1 no injury). Ten have been reported in Australia, zero fatal. Four unconfirmed bites, worldwide, not included in the total count.
*Provoked defined as spearfishing, feeding sharks, fishing, etc. (listed with green marker).
**not including one possible scavenge