A freediver had a close encounter with a 6-foot-long (2m) bull shark Nov. 30 in New South Wales, Australia.
The diver, who choose not to be named, was off Bundaberg, New South Wales Nov. 30.
The man, who chose not to identify himself, was freediving in 26 foot-deep (8m) water off Bundaberg around 6 p.m. when he was hit in his ribs by a bull shark.
"It came up and gave me a bit of a nudge – quite a hard hit," the 38-year-old told The Courier Mail. He turned around to see the shark making a second charge.
"It's hit my foot and its mouth was open and I got some pretty deep lacerations to my foot and my hands as well from when I spun around and tried to push it off me," he said. Adding that the shark swam away and disappeared into the depths.
A veteran diver for the past 20 years, he slowly made his way back to shore. Because he'd forgotten his phone, he headed home so his partner could drive him to the hospital.
However, his partner pulled over during the trip to call an ambulance. "I started feeling nauseous and we pulled over. That's when the ambulance was called because we didn't know what to do," he said.
He said he did not need stitches to his injured right foot, and believes the hype over the incident isn't necessary.
"It wasn't an attack. It was more of an encounter," he said. "I've seen helicopters flying over the beach and signs put up – it's scaring everyone in the town." As a diver, he said he accepted the risk when he entered the water.
Earlier this year another man was bitten by a bull shark in the same area.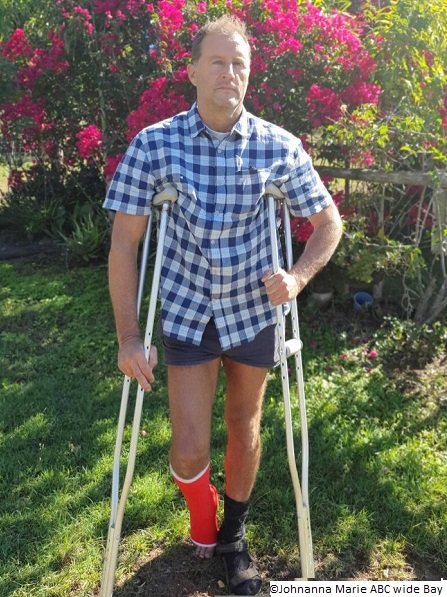 Randall Parker, 53, was about 17 miles north of Bundaberg when he was bitten on the foot May 14.
Parker was out for an afternoon swim at Norval park when he felt something grab his right foot.
"I was just washing off in the ocean, catching a few waves, when I felt a sudden jerk," he told ABC News
"It felt like … when you're on the farm and you get caught in a roll of barbed wire.
"The shark's teeth scraped on the bone. It's a wonder it didn't take the whole foot off."
After the shark let go, Parker made it to waist-deep water and looked for the shark but it was gone. He quickly left the water.
Parker's 84-year-old father fashioned a tourniquet out of a shirt and drove his son to the hospital for treatment of the five-centimeter gash on his Achilles tendon, lacerations to his toes and multiple severed tendons.
"It just seems to be my luck that I'm the first one that gets bitten by a shark at Norval Park," he said. Adding that the event will not keep him out of the water. "I look forward to sticking my leg back in the water. But I'll take my time, I think."
There have been a total of 94 shark attack bites (83 with injury, 25 of which are considered provoked) publicly reported and verified in 2019. Five fatal. Sixteen shark attack bites been reported in Australia, none of which were fatal. Five (2 no injury, 1 provoked) have been reported in New South Wales.
All locations have been marked on the 2019 Shark Attack Map.