A great white shark chomped on a kayak in California and left a couple of toothy souvenirs.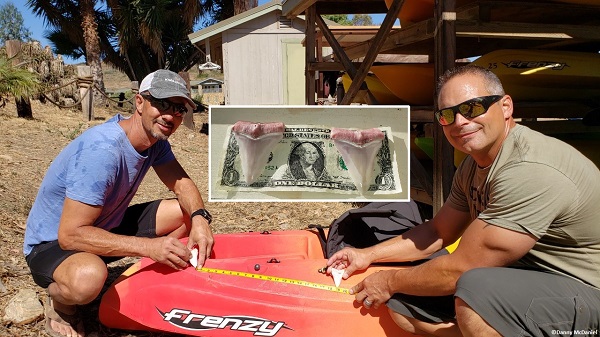 Danny McDaniel and Jon Chambers had been diving off Catalina Island when they decided to fill some down time by kayaking to Ship Rock Oct. 5.
The Rock is around 2 miles from the island, and is known as a prestige diving site that reaches a depth of 120 feet although divers can go much deeper by venturing away from the rock.
Around 4:30 p.m. the two were about 150 yards away from the rock when McDaniel felt something hit his kayak and thought his friend Jon was messing with him.  
When he looked to his right, he saw a giant great white shark.
"His upper half of body was out of the water; his dorsal fin was out of the water," McDaniel told News 10.
The shark had latched onto the rear of the kayak, just inches behind where McDaniel was sitting.
"[I] saw a giant, triangular, conical-shaped head right there and a huge body, just a massive body," he said.
Chambers watched the massive shark biting the kayak just inches from where his friend was sitting.
"… [I]said, 'oh crap, oh crap, oh crap'," Chambers recalled. "I yelled at him to hit it."
The shark clamped onto the kayak for 4 or 5 seconds before releasing its grip and disappearing below the water.
Both of the kayakers were frozen in fear as they sat silently waiting to see if the shark would return.
Eventually the pair headed back but discovered the shark had left a parting gift in the kayak—two teeth.
The teeth measured about 2 ½ inches long, and the bite radius left on the kayak was almost 19 inches across.
While the men were frightened during the encounter, they didn't let it keep them out of the water and planned on continuing a planned scuba trip that evening.
"I think I've had my fill of great white sharks. I'm good, but I'm fortunate to have this experience," McDaniel said.
"It's one for the books. Not something you want to replicate," Chambers said. "He had the best shark attack experience without it being a bad story."
The last shark bite reported in California occurred off Montaña de Oro State Park.
Nick Wapner was surfing off Sandspit Beach when he was bitten on his lower legs by a great white shark.
There have been a total of 80 shark attack bites, 72 with injury, 20 of which are considered provoked*, publicly reported and verified in 2019.
All locations have been marked on the 2019 Shark Attack Map.
Five fatal**; 46 were reported in the U.S. (including one fatal), with 24 occurring in Florida (4 provoked) 14 in Hawaii (3 no injury, 4 provoked, 1 fatal) and 3 in California (2 no injury). Thirteen have been reported in Australia, zero fatal. Four unconfirmed bites worldwide are not included in the total count.
*Provoked defined as spearfishing, feeding sharks, fishing, etc. (listed with green marker).
**One possible scavenge