A great white shark attacked a surfer's surfski April 22.
An unidentified man was paddling off Robberg Beach in Plettenberg Bay, South Africa, around 9:30 a.m. when a suspected great white shark hit the vessel from underneath with such force, it threw the occupant into the water.
The 33-year-old man was able to swim to shore and climb onto some rocks.
The National Sea Rescue Institute (NSRI) dispatched rescue boats and collected the uninjured paddler and transport him back to his launch site.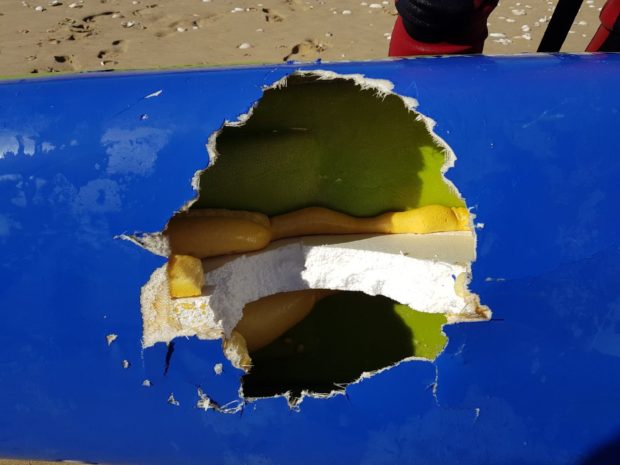 NSRI also recovered his surfski which had a large hole in the bottom.
The shark involved was estimated to be around 8-feet-long.
NSRI recommends ocean users alert at this time of the year, as sharks tend to come closer to shore to feed as part of their natural feeding habits.
On April 29, 2017 a teenage surfer was bitten by a suspected white shark approximately five miles north of this incident.
The unidentified teen was at The Waves in Keurbooms around 5 p.m. with two other surfers.
The 14-year-old was at the back line when he turned to catch a wave and saw a fin coming toward him.
The shark bumped the young man and then bit his right calf.
The surfer was able to catch a wave back to shore where his father and other bystanders, who had witnessed the interaction, were waiting to render first-aid.
He was transported to the hospital for treatment of the wound caused by the approximately 5.6-foot shark.
Plettenberg Bay had two shark attacks with no injury in 2016. On April 22, the rear of Dave Mason's surf ski was bitten off by a shark.  He was knocked into the water but was able to scramble back onto the ski and was able to stay afloat by holding onto a friend's boat.
Ben Swart had a similar encounter December 19, when an estimated 13-foot (4m) great white shark bit a large chunk out of his ski.
The last attack with injury reported in the area occurred on June 26. Dylan Reddering (graphic images) was surfing when he was bitten on his right leg, ribs and buttocks. The 23-year-old had severe lacerations, but no major arteries were damaged.
There have been a total of 21 shark attack bites* in 2018, 0 of which were fatal**; 2 were reported in the US, with 0 occurring in Florida and 2 in Hawaii. Nine have been reported in Australia, none of which was fatal. Two unconfirmed worldwide and not included in the total count.
All locations have been marked on the 2018 Shark Attack Bites Tracking Map.
*Five with no injury
**One possible scavenge