Photos of a great white shark caught off South Carolina's coast have been shared on Facebook.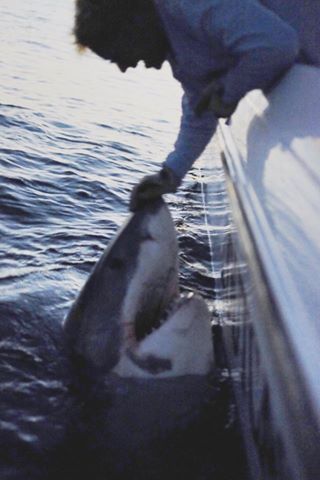 Troy Bowman was fishing off Hilton Head when he reeled in a 2,500lb Great white shark.
The Resident of Bulls Gap Tennessee had been out with Outcast Sport Fishing catching bull redfish on Wednesday, when something unexpected happened.
Capt. Chip Michalove said "we hooked into this big lady at 2:50pm. We weren't exactly sure how big she was, initially, but after a 2 minute blistering run, she jumped completely out of the water."
Mr. Bowman battled with the great white for around 4 hours before the female shark was brought to the side of the boat.
Once the shark was secured, a DNA sample was taken from her pectoral fin and an acoustic tag was placed near her dorsal fin.
Capt. Michalove said "She swam off healthy and looking forward to finding out where our South Carolina great whites go".
The Captain said this is the fifth great white hooked during the winter season and that it is the third one landed.
He added "Last January I had my first great white experience; never in my wildest dreams would I have imagined that we're getting to the point where we see one almost every trip out. It took me nearly 12 years to try and figure out the migration, food source and patterns of this amazing animal. Then the trial and error process began on how to stop, and land these fish. Lots of errors, lots of heartbreaking mistakes along the way were made….this is, unequivocally, the most intelligent fish I've ever seen. As an old great white fisherman once told me, "you're going to hook less than half of the whites you see, they're that smart". He was right, and the more we study, the more we learn. Nothing illegal was done, and the shark is now going to give us lots of data…so no hate mail. Life is good!"