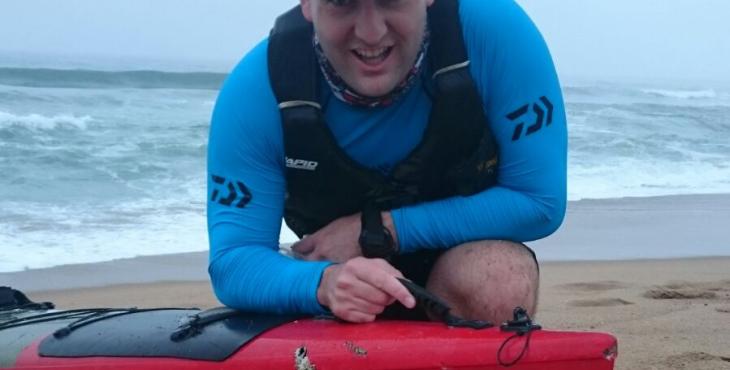 A great white shark knocked a man off his surf ski and into the water in South Africa on Saturday.
Grant Wardell was fishing with his brother around 1300 yards off shore at Westbrook Beach when the incident occurred.
The two were dragging live bait behind the surf skis.
Mr. Wardell was paddling in front of his brother and turned to check on him. As he turned around he saw the great white rapidly approaching.
"The shark leaped from the water and the force catapulted me off my paddle ski." he told the IOL
"In that instant I went from enjoying a leisurely excursion, to floundering in the sea, terrified and vulnerable, while a deadly creature approached me from below the deep water."
The ten foot great white shark was so close he could see the white under its belly.
"I was terrified but all I could think about was getting back onto my boat as quickly as I could," he said.
Luckily his brother Jamie was able to paddle up to him and assist as he got back in the water and flipped the overturned ski.
"Thank God that my brother got to me in time. He helped me onto the boat. We retrieved my paddles and made our way back to shore."
The great white was still in the water and followed the two as they paddled back to the beach.
Mr. Wardell's surf ski was damaged during the incident with the great white even left a tooth as a souvenir.
Although he plans to continue fishing, he may have to get permission from his pregnant wife Tracey, as she wants the ski to be sold.
If he does go again he said he wont do anything different.
"We are in their [the sharks'] territory out there, and we have to be mindful of that."he told allAfrica.com
The location has been marked on the 2015 shark attack bites tracking map under interactions.