Have Hammerhead sharks been killed by fisherman?
Three adult females and one male hammerhead shark have washed ashore this week in Sarasota County, Florida.  The species is protected in Florida but, unfortunately, fishing gear was attached to one adult female hammerhead's body.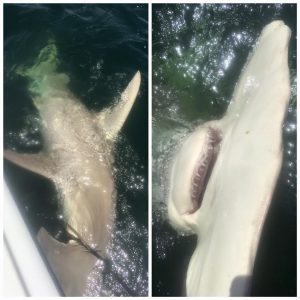 Attached fishing gear gives rise to one theory of how the sharks might have died, but is there another?
Hammerhead sharks suffer from delayed mortality.  This means sharks cannot handle the stress of being caught. The circumstances of the four hammerhead shark deaths is complicated because hot, summer weather means there is less oxygen in the water for the sharks to breathe.
"This is water doesn't hold a lot of dissolved oxygen and so these sharks tire out very quickly," Dr. Robert Hueter, associate director of research for Mote Marine Laboratory, told WFLA.com.
Some beach anglers use a kayak or small boat to paddle out past the shore breaks and place bait in deeper water.  Once the bait is placed, the chance a larger fish will be caught is greater.
While the angler may not know a hammerhead has been caught until it is closer to shore, the proper procedure would be to release the shark immediately.
"If you know that you've got a hammerhead shark, a large hammerhead, please let it go as soon as you can. That may mean cutting the line. Don't bother to get it all the way to the boat. I know everybody wants a picture, and that's important, but what's more important? Your picture? Or that the animal lives?" Dr. Hueter asked.
Even if the shark appears healthy when released it could die later.
"What they do is they swim out a little way, then they end up conking out on the bottom, dying and then being washed in," he explained.
While there is no way for a fisherman to know a hammerhead shark has been hooked, but once a fisherman knows they have a hammerhead is on the line, they should cut it loose as soon as possible.  The shark should never be taken out of the water. Not only could it harm the shark, but removing it from the water could also be illegal in Florida.
Marine Biologist David Shiffman wrote an extensive article at southernfriedscience.com on the legal understanding of landing hammerhead sharks in Florida.  The following is an excerpt:
"Land," when used in connection with the harvest of marine organisms, means the physical act of bringing the harvested organism ashore"

"Harvest" means the catching or taking of a marine organism by any means whatsoever, followed by a reduction of such organism to possession. Marine organisms that are caught but immediately returned to the water free, alive, and unharmed are not harvested"

Florida code section 68B-44  (emphasis mine)
In other words, if a fish is brought out of the water, it is "landed". If anglers stop the act of releasing a fish to measure it or take a photo, it is not "immediately released."  If a fish isn't  "immediately returned alive and unharmed" (and if the extremely physiologically stressful act of bringing a hammerhead out of the water results in it dying after release, it was not released "unharmed,")  it is harvested. If you drag the shark out of the water and leave it there until it stops moving long enough that you feel safe to approach it, that is not an "immediately released" animal, and it isn't an animal that is "released unharmed."  Landing and/or harvesting hammerhead sharks is illegal. This is clear under the law, and has been confirmed by numerous consultations with an FWC Law Enforcement official." Shiffman wrote.
Most anglers are not out to harm or kill hammerhead sharks, however their methods may inadvertently harm sharks.
Recently a 13-foot hammerhead shark was caught off the beach at Sanibel Island.  Photos posted on Facebook show the shark's mouth lying in inches of water while at least 3 different individuals took turns taking photos with the shark. Even though the shark was eventually released in knee-deep water, it would have been better for the anglers to release the shark without bringing it to the edge of the surf.
Mote Marine Researchers list several shark-friendly recommendations that can aid anglers in the release of the sharks.
Anglers fishing for sharks should use heavy tackle to reduce fight times and always use nonstainless circle hooks to avoid gut-hooking and promote quick corrosion of the hook if left in the shark.
There are commercially available dehookers that allow removal of the hook, but sometimes just cutting the leader is the quickest, safest choice, as long as the hook is non-stainless. In particular, if you catch a hammerhead on a non-stainless hook, it is best to cut the leader as quickly as possible.
Shore-based anglers should not remove the shark from the water. Always leave the shark in enough water so that it can continue to breathe through its mouth and gills. Never drag a live shark onto the beach. Photos and videos are nice, but not at the expense of the shark's life.
If a shark swims away after release, its survival is not guaranteed. Many sharks die within one to 12 hours. Releasing the shark quickly after hook-up is the best way to ensure its survival.
Were the dead hammerhead sharks in Sarasota County killed by fisherman?
Not directly, although the possibility exists through lack of knowledge about the species.  Hopefully, with the help of those who shark fish for those species that can be harvested legally, word can spread on how to properly release the sharks.