Instagram model Katarina Zarutskie had a run-in with one of her photo props.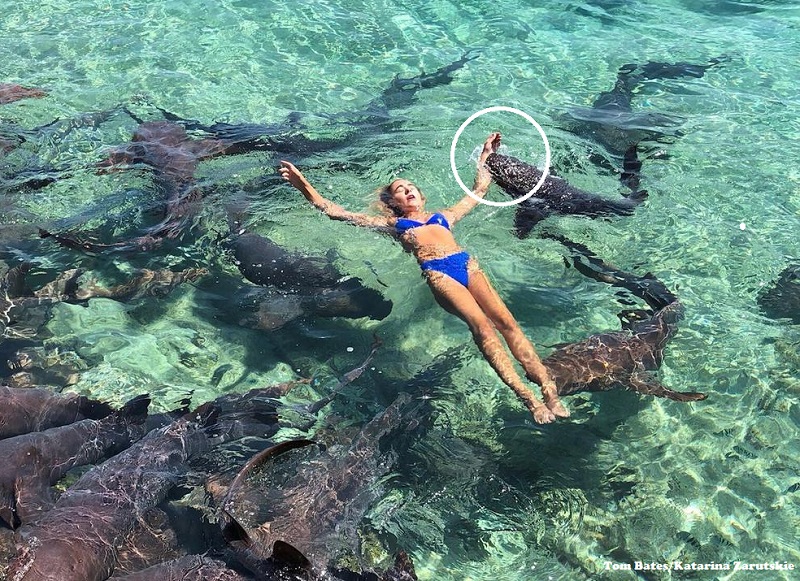 The 19-year-old model and nursing student was visiting the Bahamas with her boyfriend last month and heard about a nurse shark encounter on Staniel Cay.
The Staniel Cay Marina has a healthy population of fed nurse sharks and visitors are free to interact with them.
"My boyfriend's family was freaking out when I went to swim with the sharks and I was like, it's fine," she told NBC News.
However, she missed the posted nurse shark policy sign that warned "Nurse sharks can and do bite."
The University of Miami student swam out among the sharks and floated on her back.
Zarutskie was unaware it was near feeding time for the sharks when a 5-foot-long shark sucked her left wrist into its mouth.
"He had my wrist in his mouth and I could feel his teeth sinking into my arm," Zarutskie said. "I was pulled underwater for a few seconds and then ripped my wrist out of the shark's mouth as fast as I could."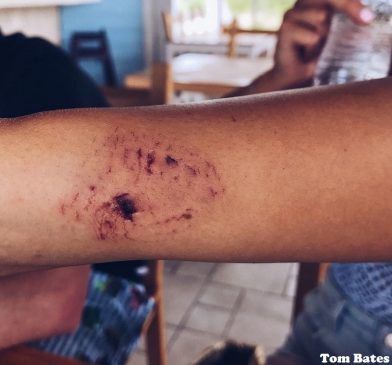 She was able to swim to some nearby steps and then headed to a local clinic for treatment of the wound.
While the wound was minor, she became worried the wound might become infected and headed back to Florida for treatment.
"[The doctors] now believe that I still have pieces of the shark teeth in my arm and I will forever have a scar," Zarutskie said. "I am so fortunate that I still have my arm and my life."
Although infection is possible, it would be highly improbable the nurse shark involved (Ginglymostoma cirratum) would be able to kill an adult or sever an adult human limb.
There have been several similar cases of swimmers bitten while swimming with nurse sharks in the Bahamas.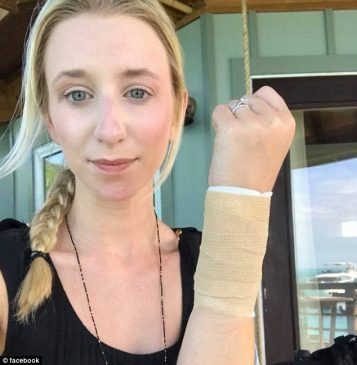 Sarah Carroll was swimming with nurse sharks at Compass Cay while her husband Evan filmed the interaction December 8, 2017.
Unfortunately, her mask obscured her peripheral vision as she swam with her arms extended and she didn't see the large nurse shark as it approached.
"I felt a whoosh of water, something clamped down on my arm and I assumed my husband was playing a prank on me," she told Tracking Sharks.
"Less than a second later I realized how much it hurt and looked past where my goggles were blocking my side vision to see the shark (bigger than myself) latched on to my arm."
She was able to treat the wound with Neosporin and even with the pain, she holds no ill will toward the shark.
"I don't blame the shark! It's never the shark's fault considering we are invading the place where they live," she said.
The incident has encouraged her to learn more about sharks and how she can use the experience to help others understand how important they are to our environment.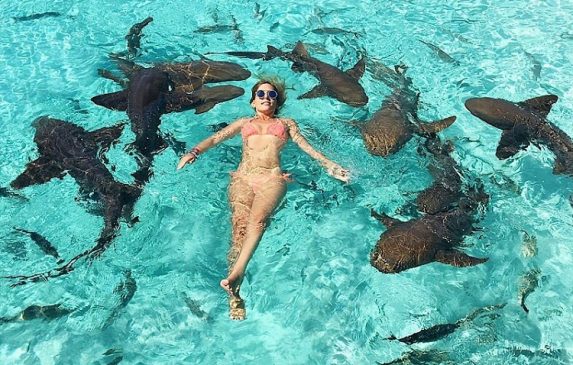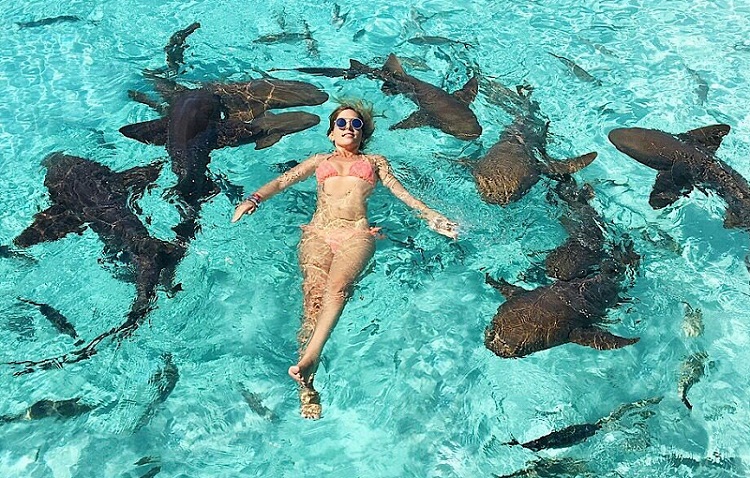 On March 1, adventure blogger Mareen was bitten on her hand by a nurse shark. The model was surrounded by sharks as she floated on her back and was nipped on her right hand near a private island south of the Exuma Cays Land and Sea Park.
There have been a total of 49 shark attack bites (36 with injury, 8 of which are considered provoked*) publicly reported in 2018. One fatal**; 11 were reported in the U.S., with 3 occurring in Florida and 2 in Hawaii. Fifteen have been reported in Australia, none fatal. Five unconfirmed bites, worldwide, not included in the total count.
All locations have been marked on the 2018 Shark Attack Bites Tracking Map.
*Provoked defined as spearfishing, feeding sharks, fishing, etc.
**One possible scavenge