Early Monday morning an angler targeting catfish near Garth Slough on the Tennessee river hooked into more than he was bargaining for.
When Tom Porbeagle saw his jug line (an empty 2-liter RC Cola bottle) moving erratically, he thought he had hooked a large catfish.
"I've been catfishing all of my life. When I pulled the hook this time… I knew something was different!," he said.
Porbeagle pulled up the heavy white clothes line to find a small bull shark pup set upon his homemade hook.
While this certainly was a rare catch, bull sharks have been known to travel hundreds of miles up rivers. As far north as Alton, Illinois on the Illinois river.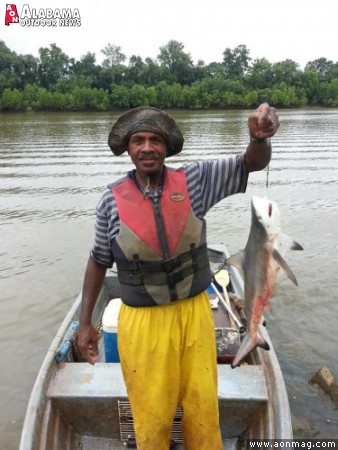 John Wayne Adams (pictured) was fishing near McIntosh, which is 45 miles north of Mobile, Alabama when he caught the juvenile bull shark on his trout line.
It was also discovered that a breeding population exists in the Brisbane River in Australia.
Should you think twice about sharks before jumping in for a swim in the Tennessee River? Probably not. Some might consider it "foolish" to be worried.