Video has surfaced of a lost diver circled by a shark in Florida.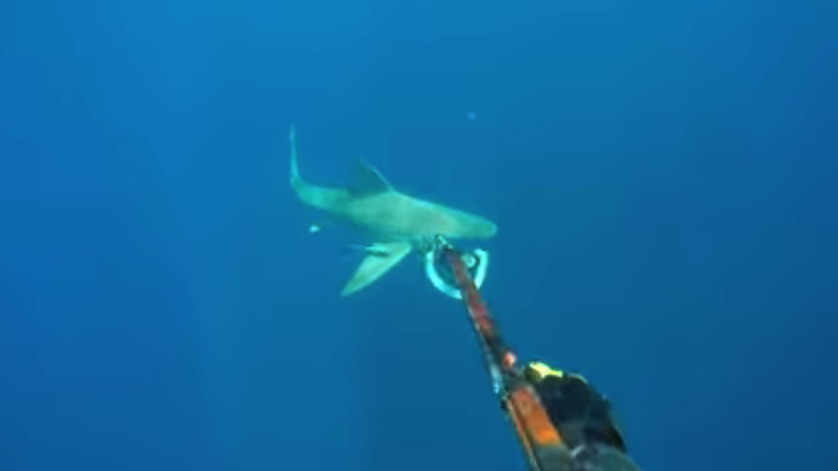 Randy Fales went spearfishing around 17 miles northeast of the Sebastian Inlet on May 15, 2016.  He was diving solo, while members of his family relaxed on the boat.
Fales,  an experienced diver who began diving in 1980, was connected to a marker buoy which was then tethered to the boat's anchor line.  However sometime during the dive, the line separated and the marker buoy was blown along the surface in a 10- to 15-knot (11 to 17 mph) wind.
The family continued watching the jug, which they believed was still attached to Fales, while he continued diving, believing he was still in contact with the boat.  Once the 68-year-old surfaced he looked around and realized he was alone. "When I got on the surface, I got around and there wasn't a boat in sight," he told Florida Today "' I picked up on a wave to see as far as I could and no boat."

About six minutes later, a shark showed up to see what was happening.  Fales said "The thought of the movie Open Water, you just think, wow, this is just like the movie."  He believed the shark was probably 6 to 8 feet long and began circling him.
With each pass the shark got a little closer.  Fales told ABC News the shark "kept getting bolder, a little bolder, a little closer. … The closest he got, is he rubbed my leg with one of his pectoral fins; I would always go into a little bit of a defense mode and he would veer away."
At one point he actually kicked the shark's dorsal fin to shoo it away. Even though he had a spear gun, he did not consider shooting the shark.  He said "They're such majestic animals to begin with, but it was kind of cool seeing them and seeing them that close."
About an hour a second shark showed up. Amazingly the sharks weren't his main concern, but instead his leg, which were cramping.
Fales had steadily been blowing his emergency whistle while holding up and waving a makeshift signal marker which consisted of his speargun and high visibility dive bag.  The strain of trying to push above the waves had taken a toll on his legs.
After about and hour and 20 minutes a boat spotted Fales and picked him up. Thankfully they were able to locate his family's boat and call off a Coast Guard search initiated after Fales hadn't surfaced.
Mr. Fales, hasn't been turned off diving and plans to continue well into the future.
Tracking Sharks recommends all open water divers carry an emergency surface marker buoy.  Often referred to as a safety sausage, the markers can be inflated orally or by high pressure inflator. The tubes are printed in high visibility colors and inflate from 4 to 6 feet high. The height of the device adds to the visibility, and it can be seen over great distances and above small waves.