A man has been bitten by a bull shark in the Bahamas.
Dr. Steven Cutbirth was vacationing with his family in the Bahamas when he and his son-in-law made plans to go spearfishing.  The two, along with their guide of 30 years and his nephew, headed out July 23, possibly to Green Turtle Cay, to free dive and fish with Hawaiian slings.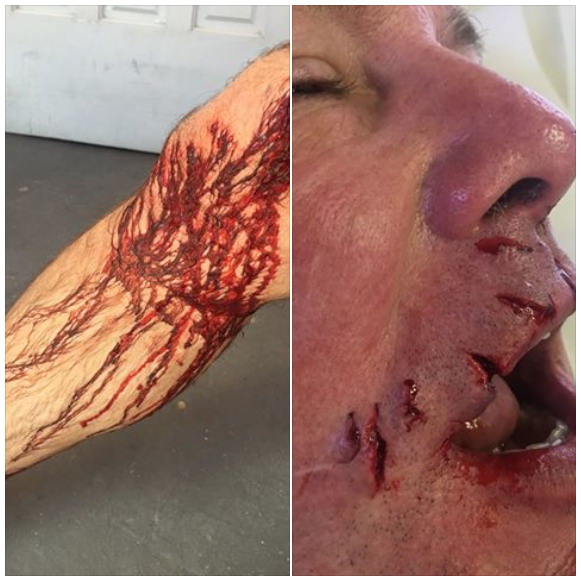 Dr. Cutbirth was holding his breath and searching for fish when the guide's nephew speared a hogfish around 50 yards in front of him.  Even though the fish was quickly removed from the water, it drew the attention of a 6-foot bull shark.
The dentist continued fishing, unaware a shark was present in the water.  When he spotted a 10-pound hogfish, he shot and speared the fish.  After fighting with the fish he headed to the surface.
"I held the fish just above my head on the spear. As I neared the surface, all of a sudden it was as if a football linebacker had crashed into the right side of my head.
"I was stunned and could not imagine what had hit me. I looked to my right and there was the white bottom side of the shark's mouth along with a wide open mouth and plenty of teeth.
"I released the spear and fish and instinctively struck out with the back of my right arm and hand, still holding the spear handle, striking the shark square on the right side of its head. That knocked it back a bit, only to have it now in full frenzy coming back at me, banging into my side and right leg, searching for the speared fish.
"I kicked it with my fin and shot to the surface in a daze, not knowing exactly what had taken place," Dr. Cutbirth reported in a post on Facebook.
After returning to the surface, his friends helped him back on the boat and administered first aid.  The group then returned to the island for additional medical treatment.
Unfortunately, no physician was stationed on the island, but a nurse was able to stitch up Cutbirth's wounds. Thankfully, his equipment helped prevent serious damage.
"The bites were above my mask on my forehead, and below my mask through my upper right lip and cheek. He got a nice bite on my right knee on both sides of the kneecap and my right outer thigh," he said.
Although he will have to stay out of the water, Dr. Cutbirth plans to finish his vacation, and holds no ill will toward the shark.
"All in all, no complaints—(I'm) a very lucky person. All men should have a few well placed scars on their face, don't you think?" he added.
This is the 50th shark attack bite of 2016, five of which were fatal, 21 reported in the U.S., with 13 occurring in Florida. Eleven bites occurred in Australia, three of which were fatal. All locations have been marked on the 2016 shark attack bites tracking map.