A fifty-nine-year old has been bitten by a shark in Hawaii.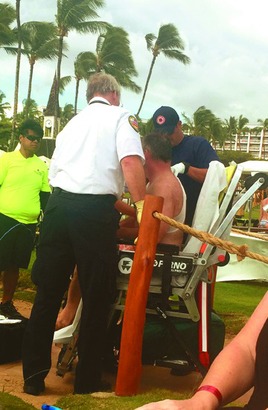 Tuesday afternoon at around 3:49 pm, an unidentified man was around 30 to 40 yards off shore on the north end of Wailea Beach.
He was lying on his back on a flotation device when he was bitten on the shoulder.
The shark left non-life threatening puncture wounds on the fifty-nine-year-old's right shoulder.
Three to four men helped the man on to a chair on the beach. A witness said the man was calm, but had blood dripping from his shoulder.
Garett Rundle, a Kihei resident told Maui News Now "three or four guys that were holding up one of their buddies." "His whole shoulder was dripping with blood. It was like a seal moment — everyone huddles around."
He was carried in the beach chair to a stretcher. And was then transported to the Maui Memorial Medical Center for treatment.
A bite radius of 16 inches was found on the mans raft and beaches were closed until sunset.
Shark warning signs were posted and ocean safety officers took to jet skis to warn swimmers of the incident.
In January of this year, a 14 foot tiger shark knocked a paddleboarder into the water in the same area where the above bite occurred.
Both locations have been marked on the 2016 shark attack bites tracking map.