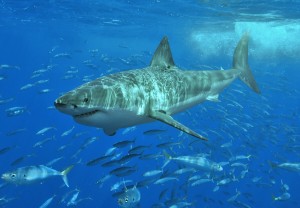 20-year-old Matthew Smithers  was bitten by a white shark while surfing in Muizenberg Beach, Cape Town South Africa. The National Sea Rescue Institute spokesman Craig Lambinon said "He was found with multiple lacerations to his lower limbs, some of which are deep lacerations, and an avulsion to the left thigh." A friend was able to help the man out of the water.
Most fatal shark bites are due to the loss of blood. Luckily a beach goer tied a surfboard leash around the man's leg to slow the bleeding. The man was airlifted to a local hospital and is in stable condition.
At the time black flags were flying on the beach as indicator poor in water visibility. Sharks can easily mistake a human for a seal or other type of prey, in murky waters.
According to the report "The species of shark involved has been confirmed by the bite marks to have been a white shark." Apparently shark was between 9 to 13 feet long.
The beach will be closed until tomorrow morning at which time the city will reassess the conditions.
Click to see this and all 2014 shark bites/attacks mapped out.