SYDNEY AUSTRALIA- Swimmer Paul Wilcox sustained a fatal bite to the right leg by a Great White shark in Byron Bay on the New South Wales coast Tuesday morning.  Paddleboarder Mark Hickey, who was on vacation from Newcastle, saw what he thought was a some seaweed and a turtle, but quickly realized it was blood and a 6 foot shark. Even though the shark was still circling, He waded out through a chest deep gutter onto a sandbar that was about 13 yards from the shore to rescue the victim who was wearing a wetsuit and swim fins.
"The shark came back to him and had another go. I didn't know it was a person – but when I realized I ran out and waded to the bank and grabbed him and did CPR but it was too late," he told The Daily Telegraph.
He and a woman performed CPR for around five minutes before two doctors came to help.
NSW Ambulance paramedic Andrew Chapman said "It was a fatal bite with major blood loss. He probably died in the water because there was no blood loss on the beach."
Our thoughts and Prayers go out to his wife of 24 years Victoria and the rest of the Wilcox family.
The lifeguards attempted to push the shark out to sea using a helicopter and jet skis.  The beach will be closed for the next 24 hours and was not patrolled at the time of the attack.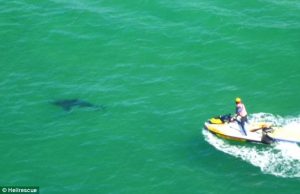 The location has been marked on the 2014 shark attack bites map.
Read more: The Australian
UPDATE: You can watch an interview with his parents on YouTube: http://youtu.be/fRfZMDh_Tjs