A nurse shark bite has been reported on the north side of Grand Cayman.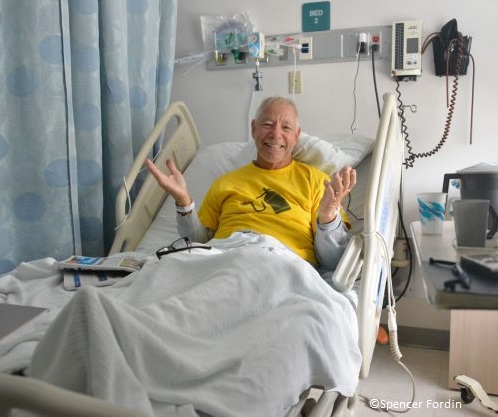 Paul Egleston, 70, was participating in a lionfish culling tournament on Aug. 31.
The dive instructor, who teaches a lionfish hunting course, was busy collecting the highly invasive fish when a nurse shark decided to join the hunt.
"At first, it came up from behind and banged into me," he told the Cayman Compass. "I thought, 'What the hell was that?' I thought [a fellow diver] was tapping me to tell me something. It just kept harassing me and harassing me. In my mind, it's a nurse shark so it's not going to do anything. I'll just go about my business."
Egleston has seen plenty of nurse sharks and most have no interest in the culled fish. He thinks this shark may have been conditioned to eat lionfish by divers who speared fish and then feed them to the shark.  The islands have strict policies against feeding marine life and it's only allowed in designated wildlife interaction zones.  
Moray ells are general more of a threat to the cullers than sharks, but this nurse shark really wanted a free meal.
"…it wasn't that long later. It just [attacked] my leg. I turned around, the thing had grabbed on and was shaking my leg," he said.
Egleston, who was on scuba, shook the shark off and calmly swam to do a safety stop and then exited the water with his full bucket of lionfish. He then drove himself to shore and headed to the hospital.
He said the wound wasn't that bad.
"It just tore a chunk off. It didn't do any nerve damage or any ligament damage. It hurts when I move. It hurts when I get up. If you touch it, it hurts pretty good. Lying still, it's not bad," he said.
Doctors suggested he stay in the hospital for a few days to make sure that the leg does not become infected and a skin graft will be needed.
The incident has not deterred him from continuing to dive or culling the extremely destructive lionfish.
He is even using the incident as an example of how tasty marine life can be.
"People shouldn't feel that they have to be concerned about nurse sharks. They're not aggressive," he said. "On a positive note, what I would say is that a lionfish is not something a nurse shark naturally eats. For people afraid to try lionfish, here's a nurse shark that went to all that trouble just to eat lionfish."
Another lionfish culler filmed a reef shark as it charged him in the Cayman Islands in 2014. Jason Dimitri was culling the fish in about 70 feet of water when a shark showed up and started going for the container of speared fish. Dimitri used his Hawaiian sling spear to find off the shark as it charged him multiple times.
"The shark was acting in his natural environment. I have no ill will toward him and will get back in the water and continue to protect the reef for future generations," he said. Adding that he strongly encourages donations be given to Reef.org to help protect the world's oceans.  
Lionfish have been introduced to ecosystems across the globe by good willed aquariumists who grow tired of the fish. Unfortunately they have very few natural predators and reproduce quickly, which can destroy a reefs natural fish population.
There have been a total of 67 shark attack bites (63 with injury, 16 of which are considered provoked*) publicly reported and verified in 2019.
All locations have been marked on the 2019 Shark Attack Map.
Five fatal**; 37 were reported in the U.S. (including one fatal), with 22 occurring in Florida (4 provoked) 8 in Hawaii (2 no injury, 1 provoked, 1 fatal) and 2 in California (1 no injury). Ten have been reported in Australia, zero fatal. Four unconfirmed bites, worldwide, not included in the total count.
*Provoked defined as spearfishing, feeding sharks, fishing, etc. (listed with green marker).
**One possible scavenge