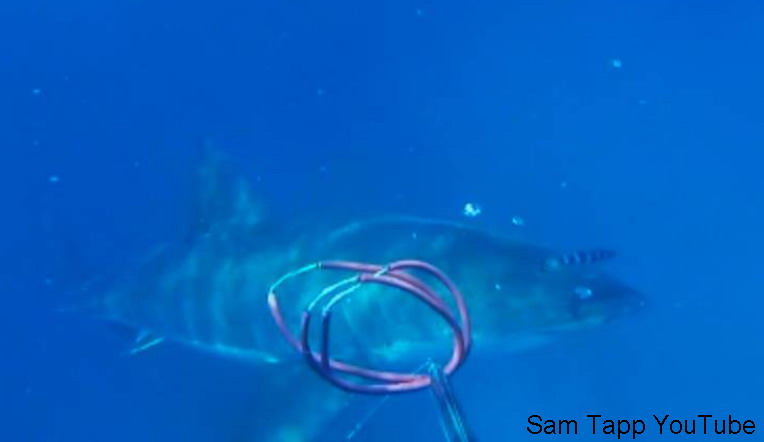 Sam Tapp was spearfishing with friends off the coast of Australia when he recorded the moment a nurse shark bumps into his camera.
The group was after king fish and chose a spot off the coast of Seal Rock called Edith Breakers.
Just after the trio lost a caught kingfish to a group of grey nurse sharks and since the water was extremely clear for the area, Mr. Tapp turned on his head mounted camera.
As he dove down after another fish a curious gray nurse shark comes up and bumps into Tapp's oddly angled head camera.
Mr. Tapp told The Herald "It's like a dog coming over to have a sniff except they have sharper teeth [but] once you are dealing with the fish you stop noticing what's going on around you"
He shared the video in hopes other fisherman may take notice and remember to focus on their surroundings as well as the catch. This becomes even more relevant with Tapps next shark encounter that occurred on the same day.
Tapp shot at another kingfish and missed. As he began pulling in the line he noticed an estimated 13ft (4m) great white shark.
He said "You don't see it on the video but I actually poke it on the nose. That's when it started swimming around us."
Mr. Tapp quickly surfaced and told his fishing partners Ethan Sutton and his father Peter to head back to the boat.
As they were swimming back, Tapp believed the shark to be "really calm."
Saying "I didn't think it was aggressive at all, just curious."
"I've been told they feel things with their mouths, but obviously an inquisitive little poke from him is pretty serious."
"It's not like Jaws, though."
Tapp hopes both shark interactions will encourage other spearfisherman to stay vigilant.
He gave some very sound advice saying "The whole point of the video is to highlight safety and looking out for your mates."