Is OCEARCH-tagged tiger shark Lexi dead?  Her tag was recently found in the back of a truck in Frisco, North Carolina, where it had been kept for several weeks.
Tiger shark Lexi was tagged by the nonprofit group OCEARCH who partnered with North Carolina Aquariums to search off the coast of Wrightsville Beach.
The groups had joined forces to tag sand tiger sharks and collect information on their migration habits and patterns.
Before the expedition kicked off, a special presentation was given at the University of North Carolina-Wilmington Lumina Theater.
"The Carolinas are important. It's thriving off the beach here. There is a tremendous amount of life. A lot of sharks are leveraging the area of many species, and that means it's important to the overall future abundance of the North Atlantic Ocean," expedition leader Chris Fischer told attendees.
On July 8, 2016 Lexi was brought aboard the specialized shark research platform on the MV OCEARCH.  The mature female weighed 263 pounds and was 8.9 feet long.
She was given her name in honor of Lexi Speight, a shark lover who passed away at the age of 8 from liver cancer.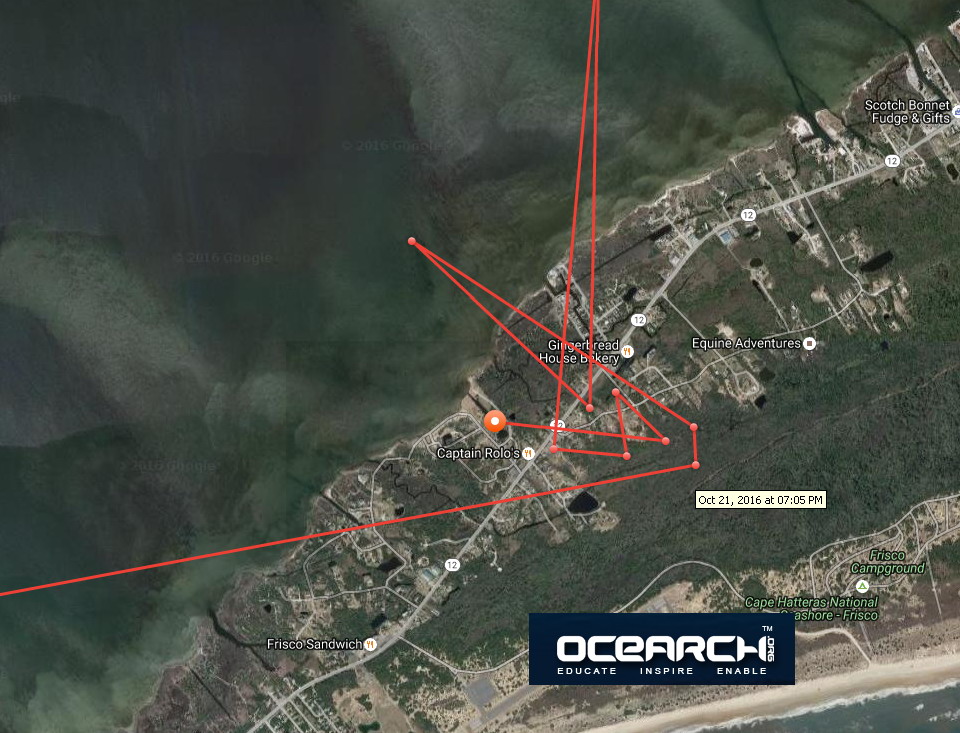 On October 20, 2016 tiger shark Lexi's tag pinged off the coast of the North Carolina for the last time at 1:57 p.m.  Her next ping occurred at 7:34 p.m. near the Hatteras Inlet.  While history shown on OCEARCH's tracking website indicates she visited the area before, this time was different.
She was not in the deep waters of the area; she was quite close to shore. The following day the first of several pings occurred on land. After several days, it was obvious this was not a bad ping or technical glitch; either Lexi or her tag was ashore.
OCEARCH, with the help of some local supporters, was able to locate the tag. It had been found in the sand on the high tide line near the Frisco Pier and was then placed in the back of a truck where it traveled for several weeks.
The big question remains:  How was the tag removed and why? While Tracking Sharks is aware of one case in which a tag was hooked by a fisherman and pulled off a shark's fin, the way OCEARCH secures spot tags to sharks makes this seem very unlikely.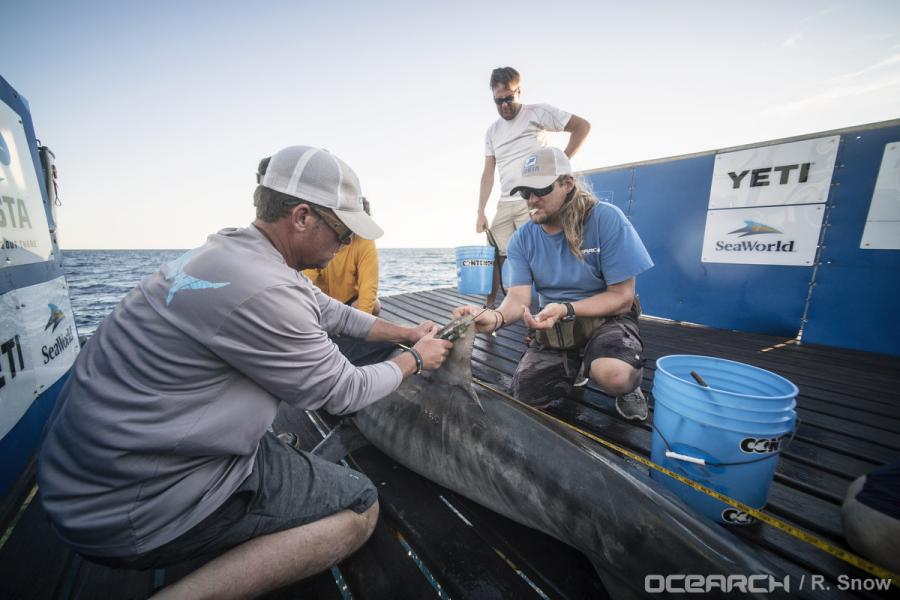 While we can hope the tag somehow came loose, the more likely explanation is that tiger shark Lexi was caught or killed.
"We have never had one [a tag] come off before". Chris Fischer said in a Tweet adding, that the tag was likely removed.
Once the tag is returned, hopefully some of its data can be recovered and a better understanding reached of what transpired can be gained.
SPOT tags are not designed to float, but once detached from a shark at sea, they could be washed to shore in stormy weather.
The tag is currently on its way back to OCEARCH, and this article will be updated as more information becomes available.
In May of this year another tiger shark tagged by OCEARCH was captured and killed in Australia.
Maroochy was caught on a Queensland Shark Control Program drumline and killed of Bundaberg, Australia.
If tiger shark Lexi has been caught then she would be the seventh OCEARCH shark killed.
11/3 Update 1:
Captain Tami Gray, who found the SPOT tag, believes Lexi is alive.
She theorized that the tag may have become entangled by a beach fisherman's line and was pulled off.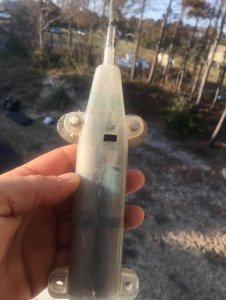 11/4 Update 2:
Chris Fischer expects the tag to arrive November 7.  Once the tag is analyzed, OCEARCH should have a better understanding as to what happened.
11/4 Update 3:
"Lexi was tagged with both an acoustic tag and a SPOT tag (the tag that was found). Unfortunately at this time we cannot determine if she was harvested, captured and released (someone removed her tag), or if the tag was somehow shed from Lexi's fin. If she was captured and released or the tag was shed, her other tag (acoustic) will still be functioning and we will be able to confirm she is alive if she swims within range of an acoustic receiver over the next year. We also may be able to get additional insight into her status once the tag is returned and can be inspected."  Biologist Bryan Frazier of South Carolina Dept. Natural Resources, Marine Resources Research Institute said on the OCEARCH profile for Lexi.
Tracking Sharks would like to give a special thanks to Stuart Read for his research assistance.