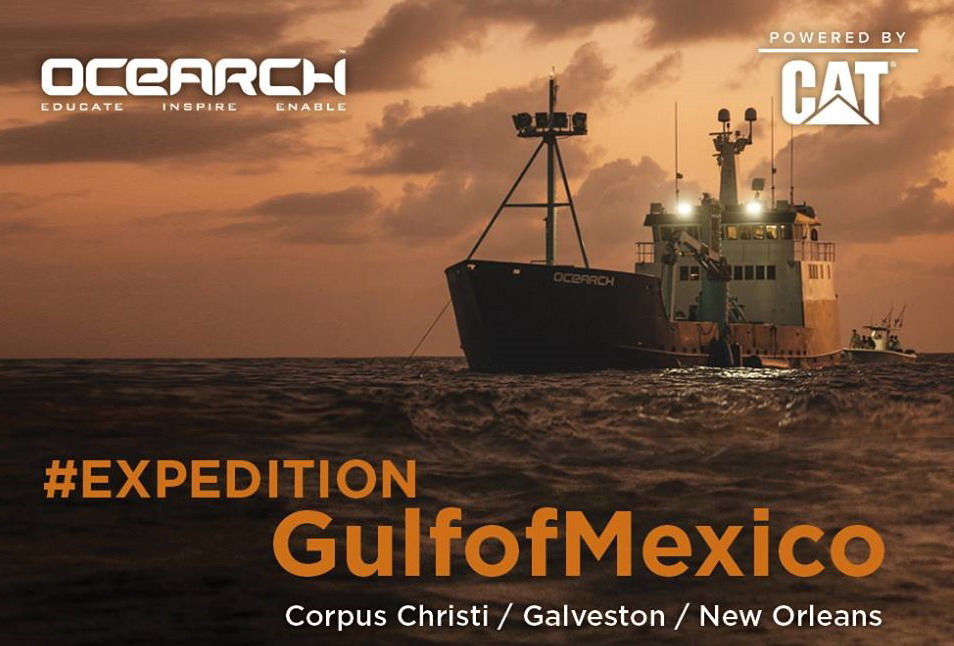 OCEARCH and The Harte Research Institute had a rough start for #ExpeditionGoMex. Hurricane Patricia, the strongest land falling Pacific hurricane on record, delayed them team from their Gulf of Mexico tagging trip.
The teams were able to wait out the storm though, and headed into the gulf  in the research vessel M/V OCEARCH.  The 126 foot former crab boat has been converted into a shark tagging mega ship, with a submersible platform capable of lifting 75,000 pounds out of the water.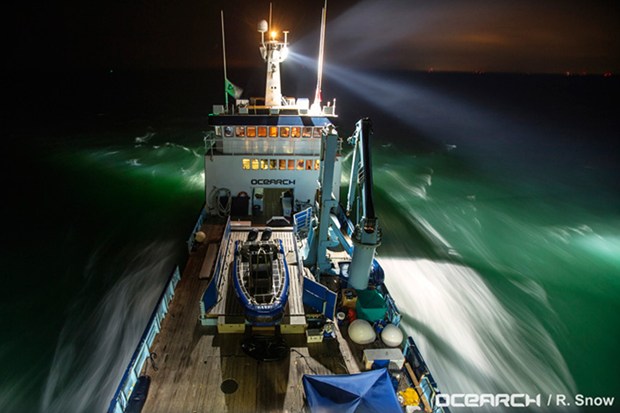 Sharks are caught using rod and reel from a chase boat. Larger sharks are then lured to the M/V OCEARCH's platform.  There they are slowly lifted out of the water and a black towel placed upon their eyes, which helps comfort the fish during its 15 minute medical exam.
Fire hoses are used to pump water over the gills to ensure the shark continues to have fresh oxygen. The science team then jumps into action taking blood samples, ultra sounds and placing electronic SPOT (Smart Position and Temperature) tags on the shark's dorsal fin.
The tags send live GPS data every time the dorsal fin breaks the surface allowing the general public to live track the shark's movement on OCEARCH's website.  In addition the tags provide valuable insight of the shark's behavior which includes water temperature and records diving depths.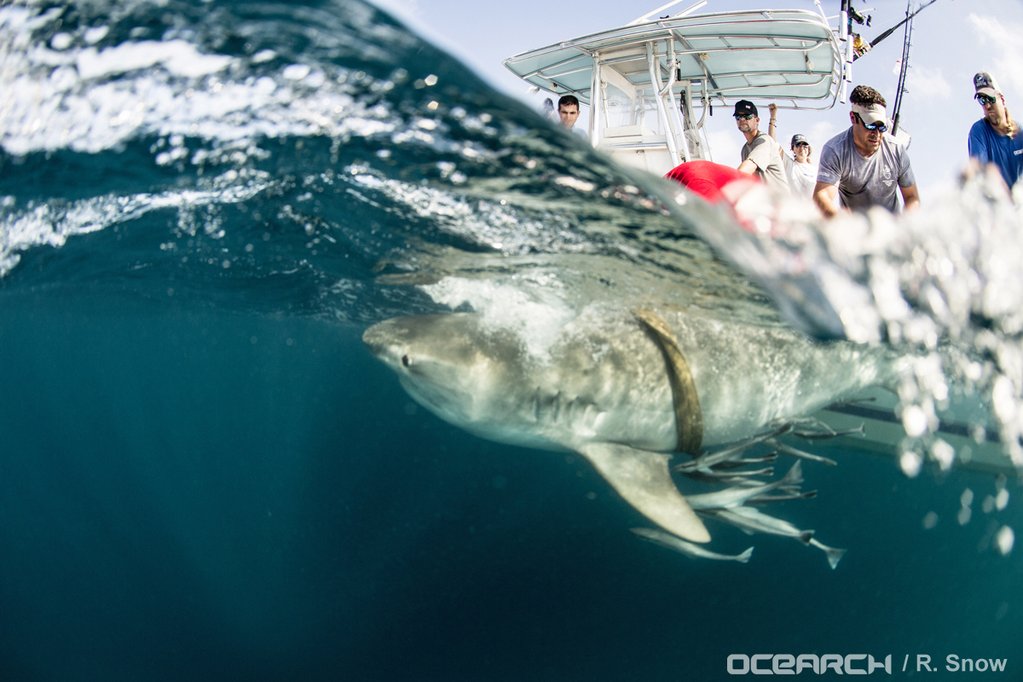 During Expedition Gulf of Mexico (#ExpeditionGoMex) the groups were able to tag  10ft 372 lb tiger shark Joseph, named after a Texas town, and a seven-foot hammerhead shark named Buddy after the singer Buddy Holly. Another tiger shark has been given the name of Finley and a second hammerhead shark was named Wyatt. The newly tagged sharks join two others who were previously tagged, tiger sharks Sam Houston and Madeline.
Now that there are new sharks in the fold, researchers will be able to learn more about the shark's reproductive habits, migrations and how they interact with the local reef system.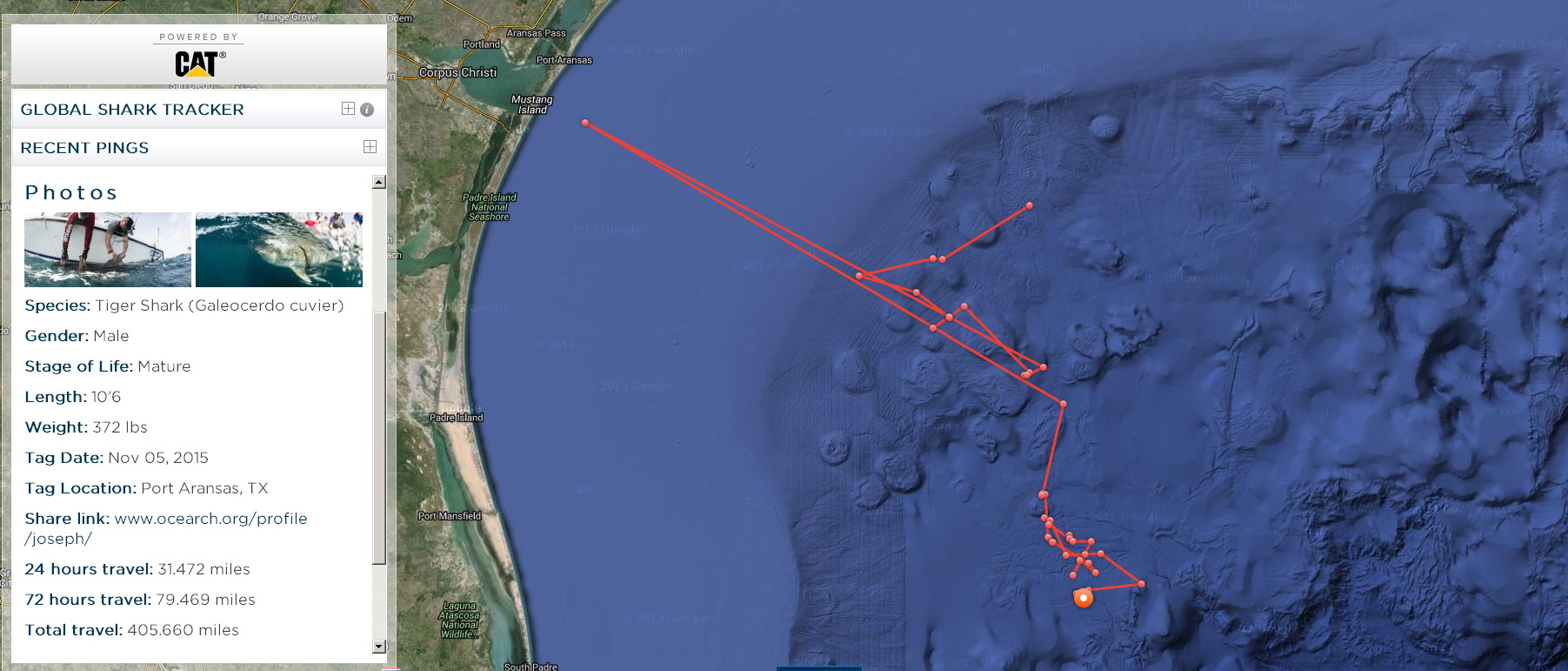 So what are you waiting for, go track some sharks!!
The OCEARCH app is available for download on IOS and Android on the web at www.ocearch.org/