A paddleboarder was attacked March 31 by a shark in Hawaii.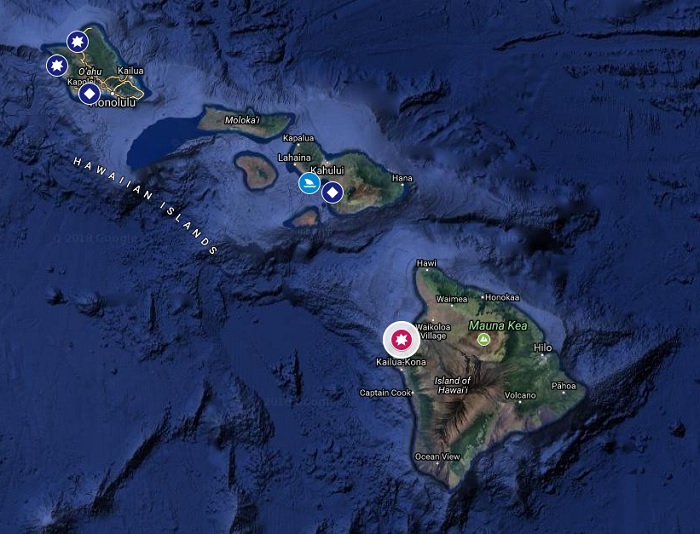 The unidentified man and his father were boarding 100 to 150 yards offshore at Kukio Beach around 9:30 a.m. when a 12-foot tiger shark knocked the pair into the water and bit the sons right hand and severed part of his leg.
A private safety team was available at the beach and quickly launched a canoe to aid the man and a jet-ski to distract the shark.
"Apparently, they had heard a scream from the ocean and they took a four-man canoe out to find a male individual who had been bumped off his paddle board about 100-150 yards offshore," Fire Capt. Michael Grace told virtual channel KOHN2.
"They recovered him from the ocean. He had injuries to his right-side extremities. The bystanders and the staff there at Kukio did a wonderful job and applied some tourniquets before EMS arrived."
The 25-year-old was flown by Aeromedical Helicopter to North Hawaii Community Hospital and then flown to Queen's on Oahu.
Local sources indicate the man is a resident of Kukio Golf and Beach Club and had major injuries to his right arm and was missing part of his leg.
Related: What you can do to prevent a shark attack
As per protocol, the beach was closed for 24 hours, at which point a determination to reopen would be made.
This is the first shark attack bite reported in Hawaii this year. There was a total of six shark interactions in the state last year, none of which occurred on the Island of Hawaii.
Of the six, two were noted as no injury, one of which involved a snorkeler bumped by a shark October 5 in Maui; the second occurred October 26 on Oahu, when a paddleboarder's board was bitten.
The most serious incident in the state occurred on the island of Kauai in an area known as Davidson's.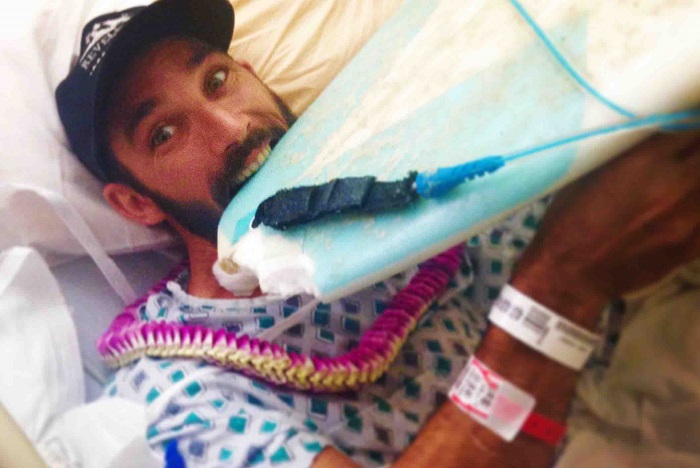 On April 14, Baboo Bourdenx was surfing around 100 yards off-shore, when a 12-foot tiger shark bit his right leg. The 28-year-old was able to hold onto his board, which helped keep him above water as the shark attempted to drag him under. He survived the incident but lost part of his leg and requires a prosthetic.
A second surfer was bitten in the same area October 9.
Mitch Milan went surfing around 6:30 p.m. when he was bitten on the left hand. The 12- to 14-foot shark held onto the board and began dragging it out to sea.  The 54-year-old was able to pull the board from the shark and paddle back to shore.
The Island of Oahu had two interactions reported with injury. A man in his 20s received minor cuts to his leg November 2 near Kepuhi Point.
On December 31, Marjorie Mariano was bitten by a tiger shark. The 54-year-old had a serious wound to the back of her left leg. Paramedics were able to use a tourniquet to stem the bleeding and transported her to the local hospital.
According to the Division of Aquatic Resources from 1980 to 2017, there were 9 nonfatal bites in Hawaii.
The highest number of shark attack bites tend to occur in the Islands in October, most likely because of shark birthing.
There have been a total of 13 shark attack bites* in 2018, 0 of which were fatal**; 1 were reported in the US, with 0 occurring in Florida and 1 in Hawaii. Seven have been reported in Australia, none of which was fatal.
All locations have been marked on the 2018 Shark Attack Bites Tracking Map.
One unconfirmed worldwide and not included in the total count.
*Four with no injury
**One possible scavenge