A Cape Cod beach has been closed after a paddleboarder was hit by a great white shark.
Cleveland Bigelow III was standing on the board around 30 yards off Marconi Beach in Wellfleet August 23 when the shark hit.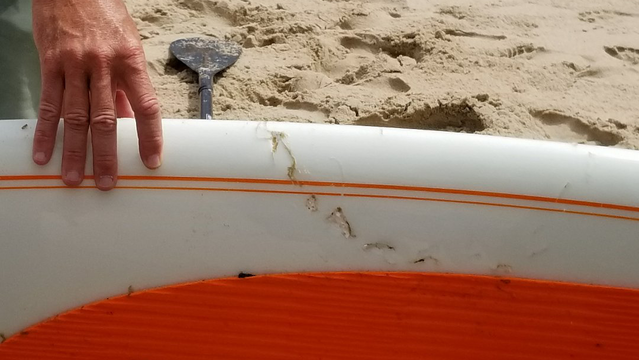 He was knocked off the board at around 10:00 a.m. into 3-feet of water.
"It was like a guy on a bicycle getting hit by a truck," the 69-year-old told the Boston Herald."I mean the impact — I didn't see the shark either coming or going and I was obviously pretty scared."
The shark left several teeth marks in the board, but the Chatham resident was not physically injured.
"The shock was, as I said, a jolt," Bigelow said. "And I had a sense of it going away. It was just really fast and, yeah, a lot of power."
Seals were seen in the area and the shark may have mistaken the board as a food source.
The MA Division of Marine Fisheries, the National Seashore, and the Atlantic White Shark Conservancy are investigating the incident.
Marconi beach has been closed to swimmers until further notice.
This is the second incident this week involving great white sharks in Massachusetts.
On Monday, a great white shark attacked a seal off Nauset Beach around 1:30 p.m.
Several swimmers and surfers were in the water at the time. The injured seal swam towards a pair of surfers who were unaware of what happened.
The two were able to make it back to shore with the help of other beachgoers.
Great white sharks hunt seals. If beachgoers, kayakers or paddleboarders should spot a seal, they should immediately leave the water as quickly and calmly as possible.
There have been a total of 69* shark attack bites in 2017, 5 of which were fatal*; 33 were reported in the US, with 21 occurring in Florida** and one in Hawaii. Nine occurred in Australia, one of which was fatal and one with no injury. Four unconfirmed worldwide and not included in the total count.
All locations have been marked on the 2017 Shark Attack Bites Tracking Map.
*Two may be scavenge. **One report may have been outside of Florida waters.
Updated 08/28/17