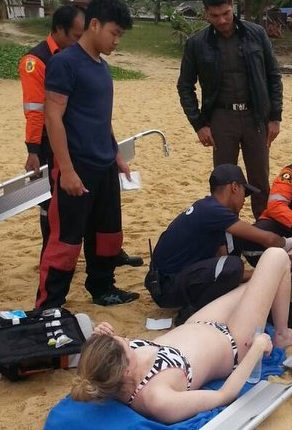 Jane Neame was believed to have been bitten by a shark in Phuket, Thailand September 1.
The 37-year-old was around 200 meters from the Karon Beach shore when she was bitten twice on the left foot around 8:30 a.m.
"I may have stood on it, and then it bit me. It's hard to say because it bit underneath my foot and on top," she told the Phuket Gazette
"I felt it tear at me. It felt like a shark," she said after being told that experts believe it was most likely a shark attack. "I'm from Queensland, so we have sharks there. I wouldn't have expected sharks to be here."
She was transported to the Patong Hospital, before being transferred to Dibuk Hospital and then finally to Bangkok Hospital Phuket.
The shark, thought to be a bull, severed the pregnant Australian tourists tendon (link to graphic image of the wound).
"Based on the picture, it looks like the wound was caused by a shark… It might have bitten her twice. However, we will send pictures to experts in Bangkok to confirm," Dr. Kongkiat Kittiwattanawong, head of the Phucket Marine Biological Center's Endangered Species Unit, told the Phuket Gazette.
Dr. Kongkeit has "never come across" a shark bite in his 20 years with the Unit.
The bite hasn't deterred Neame from entering the ocean again. "I'm not scared. I love the ocean," she said.
The location has been marked on the 2015 shark attack bites tracking map.
Updated 08/16/17