Honolulu, Hawaii News and Weather – KITV Channel 4
Paul O'Leary was swimming in the murky water of Middle Bay at Kehena Beach in Kalapana, Hawaii on Tuesday when he was bitten by a shark.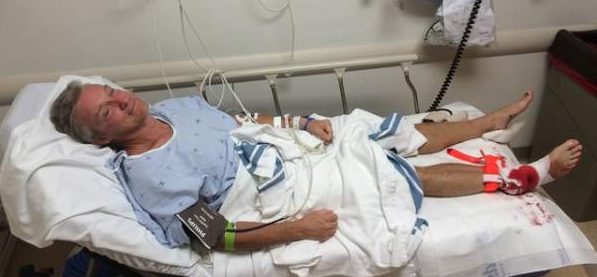 The 54-year-old around 100 yards offshore when he was bitten on the foot and had deep wounds on the side of his right ankle.
O'Leary has been a regular visitor to the nudist beach however, he was able to clothe himself with the help of beachgoers before the ambulance arrived.
According to witness' on scene, paramedics ruled it was most likely a shark bite.
He was taken to Hilo Medical Center where he received more than 50 stitches to repair the two severed tendons and nerves in his right ankle.
The incident has been marked on the 2015 shark attack bites tracking map as unknown.
Hawaii has had several shark related incidents in the past few months, possibly due to the pupping season of tiger sharks.
*Two may be scavenge