A possible shark bite has been reported in Dare County, North Carolina.
According to witnesses, a surfer reported being bitten by a shark on October 19 off Sound Sea Village.
The 21-year-old had just entered the water when he was bitten on the left leg just before 2:30 p.m.
He was able to leave the water under his own power and began signaling for help.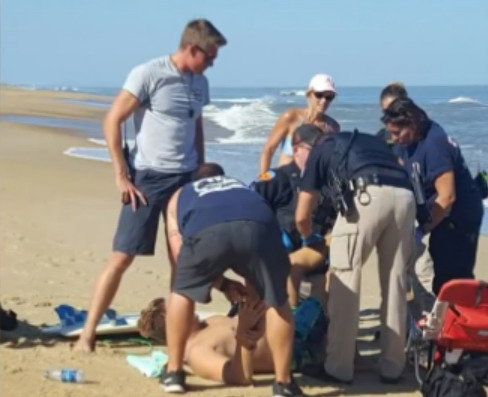 "I turned around thinking well maybe he was waving to somebody on a balcony. Then when he got a little closer in you could tell he was yelling for help and his arms were waving and he was really panicked," Kim Klein told WVEC
Her husband Mark went to assist the victim as she dialed 911.  "I don't know what bite him but he had like three marks one by his ankle and two on the side of his feet," he said
He said the man's foot looked like it had been cut with a knife and the surfer was in a lot of pain.
Mrs. Klein said the man did say he thought he was bitten by a shark.
"That's what he said he thought," she said. "I mean that's the first thing you think of when you're getting bite by something, right."
However, Duck's Director of Public Information, Denise Walsh doesn't want anyone to jump to conclusions.
"I know people like to jump to a conclusion but it could be blue fish or other things as well so we really don't know enough to speculate,"
There have been a total of 87 shark attack bites in 2016. Seven of which were fatal; 39 were reported in the US, with 28 occurring in Florida. Eighteen have occurred in Australia, three of which were fatal.
All locations have been marked on the 2016 shark attack bites tracking map.