Updated March 28.
A rare cookiecutter shark bite has been reported in Hawaii.
Eric Schall and friend Steve Gruenwald flew to Hawaii to swim across the Kaiwi Channel March 18.
The two planned to swim the 26-mile (116km) channel, which has a maximum depth of 2,300 feet (700m), but ran into several problems as they began their journey. The first was a weather delay which pushed back their original starting timeline, the second was marine life.
Gruenwald attempted the swim last year but became ill near the halfway mark and had to stop. Unfortunately, the same thing would happen this year.
"I swam through a man-o-war as did my tandem partner [Gruenwald]," Schall told Tracking Sharks. "After my partner became sick and got out, I swam through what I thought was another man or war. Except this time, when I went to brush it away, it didn't just collapse, it stayed attached. So I grabbed it and pulled it off my body. I could fell it wiggling, so I knew it wasn't a jelly fish and I can feel the hole in my belly."
Apparently, the shark had come to feed during the night, but it appears it was not drawn to the surface by either the support boats' running lights, the kayakers' red headlamps, or the single glow stick Schall wore. 
Related: Third cookiecutter shark bite of this year in Hawaii
The 58-year-old swam up to a support kayak to and explained what happened. That is when the reality of the situation kicked in.
"I sensed there might be blood and it began to hurt more that I could image for another 13 miles of swimming."
The kayaker radioed ahead to the lead boat which came around and pulled Schall out of the water and administered first-aid.
Schall was transported ashore and taken to Queen's hospital in serious but stable condition.
The small sharks have nasty little bites that remove flesh in circular-type patterns, and look almost as if they were created by a cookiecutter.
Schall was left with a roughly 4-inch (10cm) wide hole that is around 1-inch (2.5cm) deep in his abdomen. Doctors cleaned up the wound and sent him back to the continental US where he had surgery to sew up the wound on Wednesday.
The wound isn't going to keep him down. Although he won't be able to drive until the wound heals up and is required to stay out of the water for 4 to 6 weeks, he is continuing to be as active as possible.
Schall considers himself "a survivor, not a victim" and hopes to inspire others. "My intention and inspiration is to not let these types of things slow you down or hold you back. They are placed into our lives not as punishment, but as opportunities for us to look inwards and evaluate our being…it has made me think about how and why I choose my next challenge. And how I view myself as a person. This is about learning and improving ones being."
His next swim is tentatively scheduled for Aug. 2019 and he will take on Kaiwi again.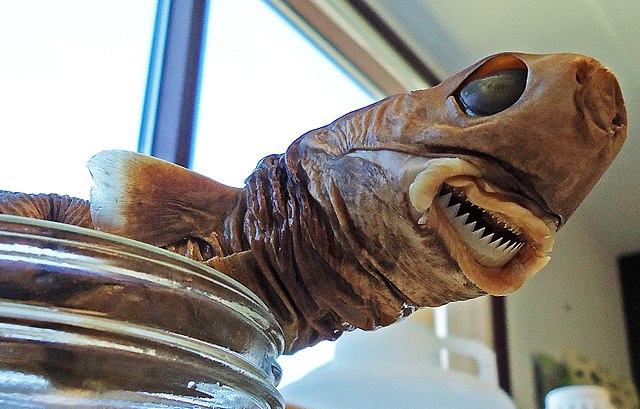 Cookiecutter sharks were a problem for another channel swimmer in 2009.
Mike Spalding was about 10 miles off Upolu point in the Alenuihaha Channel when he felt some squid bumping into to him.
Around 8:15 p.m. a small cigar-shaped shark bumped and bit at Spalding who decided it was time to exit the water.
As he was entering a support kayak, the shark grabbed his left calf and removed a piece of flesh.
Interactions with the deep-water sharks are quite rare. In the above cases, the sharks were almost certainly drawn to the area to feed by the lights of the support boats.
However, there have extremely rare cases of the sharks showing up in the shallows.
In 2017, Jack Tolley, 7, and family were wading in Alma Bay in North Queensland when a cookiecutter shark grabbed the boy's leg.
The 7.3-centimeter (73mm) wound was nearly down to the bone and not the first injury reported in the bay that October.
Two other unidentified swimmers also reported injuries, leading some to speculate a sick or injured cookiecutter shark was living in the bay.
There have been a total of 13 shark attack bites (11 with injury — four of which are considered provoked*) publicly reported and verified in 2019.
All locations have been marked on the 2019 Shark Attack Map.
One fatal**; five were reported in the U.S (including zero fatal), with two occurring in Florida and two in Hawaii. Three have been reported in Australia, zero fatal. Four unconfirmed bites, worldwide, not included in the total count.
*Provoked defined as spearfishing, feeding sharks, fishing, etc. (listed with green marker).
**Zero possible scavenge