We pick back up on our search for great hammerheads in the Bahamas as the group approaches North Bimini Island. At dusk we enter the small harbor of Alice Town. A boat for deep sea fishing is located next to us. We turn on the boat lights and see in the approximately three-meter deep harbor water several large Tarpon.
The Atlantic Tarpon (Megalops atlanticus) is highly sought after by sea-anglers for its spectacular battles. Its meat is marketed fresh or salted. In Colombia, the fish are kept in aquaculture. The large scales are made into works of art or used in the production of artificial pearls.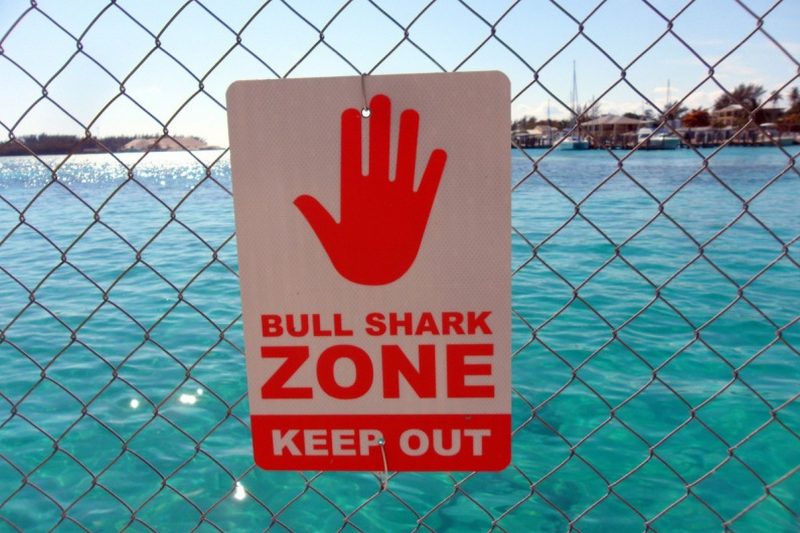 Then, we can hardly believe it, comes a three-meter bull shark (Carcharhinus leucas) in between. Then a great hammerhead shark. A refreshing dip in the water is therefore not recommended! Whoever goes swimming here, not only plays with his life, he may already be dead, before he is wet. This report from Tracking Sharks shows, a boy from Scotland wasn't that lucky in April 2018.
Shane McConnell and family were visiting family in Florida when they decided to travel to the Bahamas. Shane was walking along the Bimini Big Game Pier where fisherman were tossing out fish parts. Unfortunately, Shane lost his balance and fell into the water where an estimated 6-foot bull shark took interest. "I think, when I was swimming, it sort of bit me while I was pulling my legs in, and it came out and then swam away. I didn't really realize I got bitten by a shark until I actually managed to climb up the ladder, and I saw my shoes, and they had a big hole in them, torn on the sides," he told Seven News. The 12-year-old was taken to a local hospital for treatment. "I didn't actually get to see what happened until we got to the hospital, and then they took my shoes off. I got two puncture wounds in my left foot, and they were quite deep, and it's bled a bit through the bandages," he said, "and on [my left foot], I got a scrape." Doctors were able to sew up his foot using around 50 stitches to sew up his right foot and 6 on the left.
According to his father, the young man took the event like a champ. "It was two and a half hours of putting stitches in. Never flinched, never flinched once," said James McConnell. "He was so brave. He just kept on chatting and kept on smiling. He was reassuring everybody else; he was saying, 'Don't worry, I'm going to be fine.'" McConnell kept in high spirits during the whole ordeal. "I've always liked marine life, and I've always wanted to be a marine biologist, and this is just a good start," he said before adding, "I mean, a bad start." Both of McConnell's feet were bandaged on Saturday, and should be healed enough to walk on in about a week.
This was the first shark bite reported in the Bahamas this year. Last year (2017) the islands had a total of eight nonfatal interactions.
The first reported occurred on Bimini when Dutch celebrity biologist Freek Vonk was bitten on the right arm. The 34-year-old biologist was swimming with sharks at the time and said the shark made a mistake and bit his arm. Two other people suffered minor bites while swimming with nurse sharks. Adventure blogger Mareen was bitten on March 1 at Compass Cay as was Sarah Illig, although that bite was captured on film December 8. On March 2, spearfisherman George Keywood was bitten on the calf and hand by a lemon shark off Great Exuma. The 58-year-old's hand suffered the worst damage as nerves were damaged.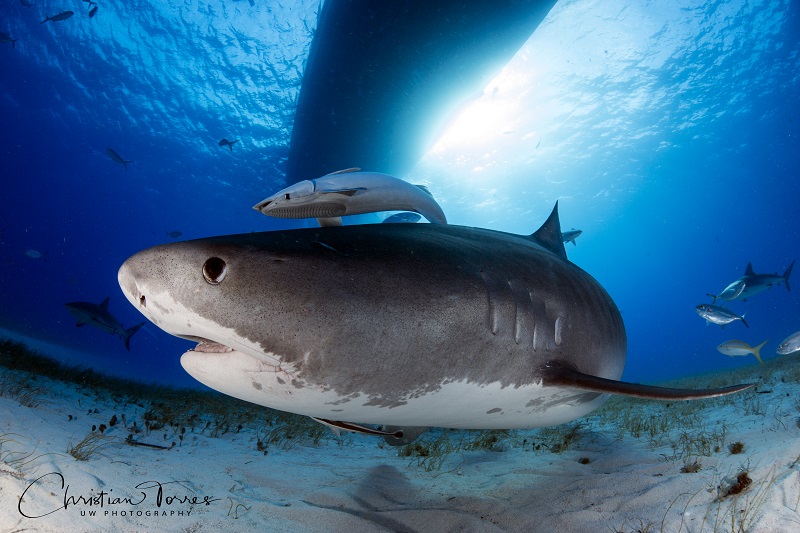 Snorkeler Tiffany Johnson lost her arm to a suspected tiger shark June 2. The 32-year-old was in the water waiting on her husband when a shark approached off Nassau. "I felt like a tug or bump on my arm. I honestly thought I had bumped into something, that's what it felt like," the mother of three recalled from her hospital bed. "I causally looked to the right and I was face to face with a shark, and he had my arm in his mouth."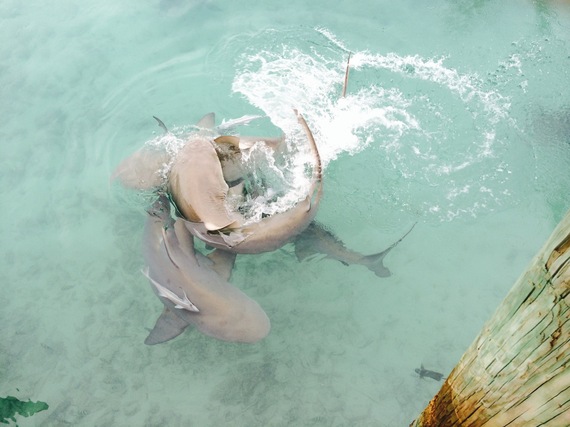 As we learn later during the trip, many bull sharks roam in the harbor, which is why hardly a local swim in the waters. In the past, the bartender of the Bimini Big Game Club tells us that he ran from north to south Bimini through the shallow water at low tide. That's too dangerous today, he says, you depend on the ferry service. The "Big Bulls" are huge. In the harbor basin of North Bimini, you can dive with them in a cage. Very cool.
Continue searching for great hammerheads with Part 3.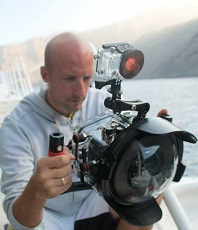 Christian Kemper is a TV journalist from Germany and freelance writer for three of the biggest diving magazines in Germany. He has been diving with and studying sharks for more than 20 years. The author has written two books about shark attacks and is about to publish his first English language book about sharks titled "The Fear Beneath."
You can find his German Language book Strange Pool Friends on Amazon and at tredition.
He has also written a three part article about diving with tiger sharks.